IMPORTANT: people from interstate visiting our hospitals and health services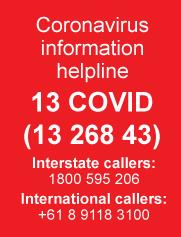 WA's current travel restrictions are designed to prevent the spread of COVID-19 by limiting non-essential travel. This includes requiring approval to enter the State and a requirement to self-quarantine for 14 days – in case you are unknowingly carrying the COVID-19 virus.
If you are entering Western Australia under an exemption and have been granted permission on compassionate grounds to visit a patient in hospital within your quarantine period, you must phone ahead to the hospital to arrange this visit to ensure it is managed appropriately.
WHY? Precautions need to be put in place to protect staff and patients while you attend the hospital.
It is an offence to fail to follow the directions stipulated in your exemption. WA Police have the power to enforce these restrictions and you can be fined up to $50,000.
If you have questions, call 13 COVID (13 26843).