Novel Coronavirus (COVID-19): What you need to know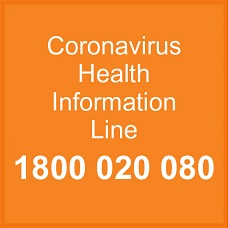 Current situation
The best thing you can do is stay up-to-date by checking:
Calling the Coronavirus Health Information Line on 1800 020 080 with any concerns or questions
We've also put together some information and frequently asked questions about what Coronavirus is and what you can do to protect both you and your family.
Frequently asked questions
What is Coronavirus or COVID-19?
Coronaviruses are a large family of viruses that can cause illness in humans and animals. Human coronavirus illnesses are generally mild such as the common cold. However, some coronaviruses can cause severe diseases such as Severe Acute Respiratory Syndrome (SARS), which was identified in 2003, and Middle East Respiratory Syndrome (MERS), which was identified in 2012.
COVID-19is a new coronavirus, first identified in Wuhan, Hubei Province, China in December 2019. It is a new strain of coronaviruses that hasn't previously been identified in humans. COVID-19 is closely related to SARS and in the same family of viruses as MERS.
What are the symptoms of Coronavirus?
Coronavirus can cause a range of symptoms. Symptoms can range from mild illness to severe pneumonia. Affected people may experience:
fever
flu like symptoms such as coughing, sore throat and headaches
difficulty breathing.
Who is at risk?
People who live in, or have recently travelled to countries where the virus is circulating or had close contact with a confirmed case may be at risk of becoming unwell.
Some people may be at higher risk of infection, such as people who have illnesses that suppress the immune system or make them more vulnerable to respiratory disease. This includes people with chronic lung disease, those who have suppressed immune systems and the elderly.
What is considered 'close contact' with a confirmed Coronavirus case?
A close contact is defined as:
Greater than 15 minutes face-to-face contact, in any setting, with a confirmed case OR
Sharing of a closed space with a confirmed case for a prolonged period (e.g. more than two hours)
What can I do to protect myself?
The best way to prevent the spread of COVID-19 is by practising good hand hygiene and sneeze/cough etiquette. This includes:
Washing your hands
Frequently washing your hands for at least 20 seconds with soap and water, or using an alcohol-based hand gel. Here's how to wash your hands properly.
Try not to touch your mouth and nose
If you need to cough or sneeze, cover your nose and mouth with a paper tissue or flexed elbow – throw the tissue immediately after use and wash your hands.
Stay away from people who are sick
Avoid close contact with anyone if you, or they, have a cold or flu-like symptoms (maintain a distance of at least one metre).
Do I need to wear a face mask?
You do not need to wear a mask if you are healthy. While the use of masks can help to prevent transmission of disease from infected patients to others, masks are not currently recommended for use by healthy members of the public for the prevention of infections like Coronavirus.