How the Perth-Peel lockdown impacts regional WA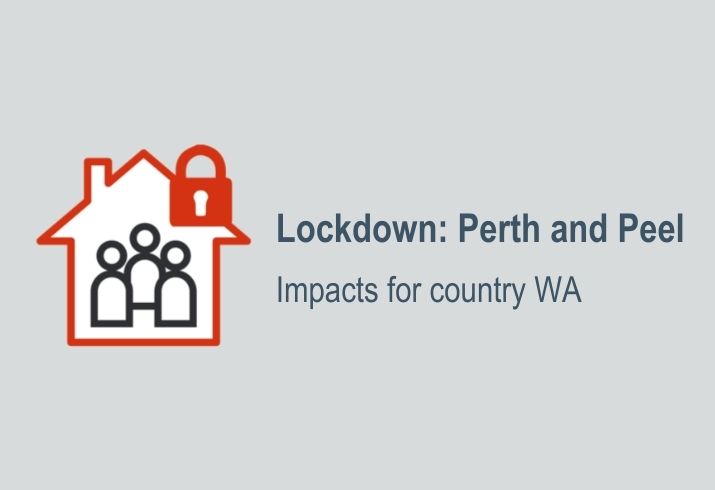 Following community transmission of COVID-19, the Perth and Peel regions entered a minimum 4-day lockdown from 12:01am, Tuesday 29 June until 12.01am, Saturday 3 July.
While the lockdown directions are limited to Perth and Peel, there are several implications for country WA.
Travel from Perth and Peel since 27 June
If you've been in Perth or Peel since lockdown commenced and are now in country WA, you should be adhering to lockdown measures. This includes staying home unless you need to and wearing a mask if leaving the house for essential purposes.
Anyone who has travelled outside of the Perth and Peel regions since Sunday 27 June must continue to wear face masks in public, as per the existing directions.
Intrastate travel
From 12:01am, Tuesday 29 June 2021, travel from Perth and Peel to other regions will not be permitted, unless for essential purposes.
Travel restrictions to remote Aboriginal communities are still in place in WA.
Visiting a country hospital or health service
If you've been in Perth or Peel since lockdown was announced and are now in country WA, you cannot visit patients in country hospitals or health services unless there are extenuating circumstances, including on compassionate grounds.
If you fall into this category, please phone ahead and discuss your individual circumstances with the hospital. Please do not just turn up.
Protecting our communities
The threat of COVID-19 reaching our communities is very real and we need to do everything we can to protect ourselves.
Anyone who has been to one of the potential exposure locations in Perth or in New South Wales, please follow the relevant instructions and get tested as soon as possible. Exposure sites and times are being updated regularly so please continue to check the list.
You should also get tested if you have any symptoms of COVID-19. Symptoms include fever, cough, shortness of breath, runny nose, sore throat or the loss of taste and smell.
Testing locations are available throughout regional and remote areas of WA.
Now more than ever it's important to roll up your sleeve and get vaccinated against COVID-19.
Do you know where your nearest COVID-19 vaccination clinic is? Eligible Western Australians are encouraged to visit one of the many clinic locations across WA and roll up their sleeve to protect our community.