Albany prepares for a community vaccination blitz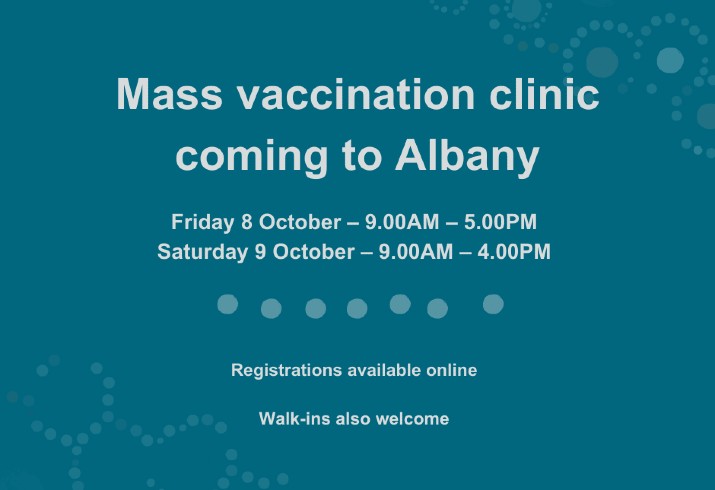 The WA Country Health Service (WACHS) is holding a community COVID-19 vaccination clinic on Friday 8 and Saturday 9 October to help protect Albany locals against serious illness from COVID-19.
Anyone aged 12 years and over is welcome to walk-in to the clinic, located at the old Bunnings Warehouse site at 348 Albany Highway, Albany. The COVID-19 Pfizer vaccine will be available for free to all eligible recipients.
The clinic will be open between 9.00am and 5.00pm on Friday 8 October and 9.00am and 4.00pm on Saturday 9 October.
Family activities are scheduled on Friday between 10.00am and 3.00pm, including a sausage sizzle (only fitting for an old Bunnings site) and an appearance from a fire truck.
To make the vaccination process easier for families, group bookings are available for families with children over 12.
Those attending the vaccination clinic are asked to bring their Medicare card with them.
Bookings can be made online via Vaccinate WA. Walk-ins are welcome, too.
Margaret Abernethy, WACHS COVID-19 Vaccination Program Lead, said COVID-19 vaccines are an important step on the path out of this pandemic.
"We're making it as easy as possible for residents in the Great Southern to roll up to receive their COVID-19 vaccination," Ms Abernethy said.
"The vaccines are safe, and they're effective. Two doses of the Pfizer vaccine are highly effective in protecting people from becoming seriously ill with COVID-19, including new variants like the Delta strain."
"We're asking the residents of Albany to play their part in keeping the region safe, healthy and vibrant."