Command Centre leader a champion for country clinicians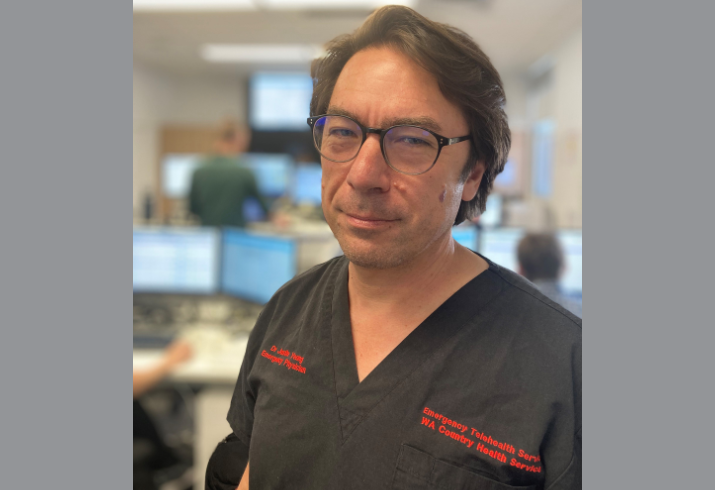 Along with leading the award-winning WA Country Health Service (WACHS) Command Centre, Dr Justin Yeung has added Rural Health Excellence Awards finalist to his long list of accolades.
As Medical Director for the innovative virtual clinical hub, Dr Yeung is one of three finalists in line to be named Metropolitan-Based Bush Champion.
Prior to leading the Command Centre, Dr Yeung was Albany Health Campus' first ever Director of Emergency Services. It's a place he continues to return to as a locum doctor.
"The thing for me is even though I'm sitting in Perth, that sense of community we have in Albany is still felt through telehealth," he said.
"We're able to connect to clinicians across the state at the click of a button, we get to grow this virtual community focused on delivering quality care and keeping country patients safe and healthy.
"Everything we do is to support the clinicians in the bush to keep their patients close to home and give them equity of access to services and timely transfers. That's what we do well and I'm proud to be part of it."
The WACHS Command Centre harnesses telehealth technology and real-time data to assist on-the-ground clinicians in delivering patient-centered care on country and close to home.
Since it was first established in 2019, the Command Centre has achieved some remarkable milestones. But there are some achievements of which Dr Yeung is particularly proud.
During his time in Perth, Dr Yeung and his team established a virtual Intensive Care Unit stream when COVID-19 began to place pressure on country communities, supporting country clinicians manage the pandemic's impact.
And this month, the Command Centre celebrates the expansion of the Acute Patient Transfer Coordination (APTC) to a 24/7 service. The service is a first-of-its kind collaboration between WACHS, Royal Flying Doctor Service and St John Ambulance to ensure patients needing transfer to Perth is done quickly and efficiently.
Congratulations to Dr Yeung and thank you for everything you do for our country communities and country clinicians.
Read more about the more than 30 finalists in the WA Rural Health Excellence awards
here
.