Wheatbelt health services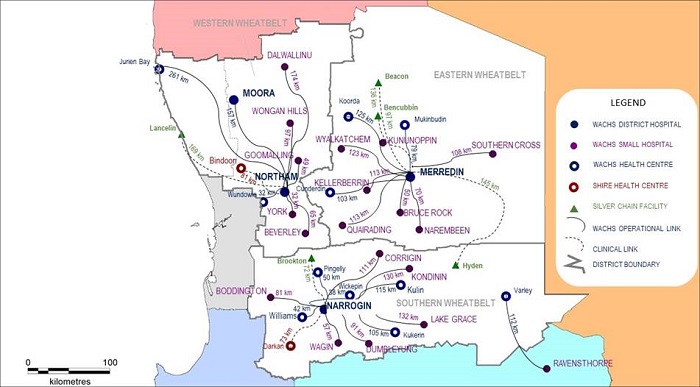 WACHS Wheatbelt operational districts
WACHS Wheatbelt health provides quality treatment and care, as well as health promotion and primary health initiatives in a friendly setting for patients, staff and the Wheatbelt community.
WACHS Wheatbelt respectfully acknowledges the past and present owners of the land, the Noongar people. It is a privilege to work and live on Noongar country.
WACHS Wheatbelt health has historically been split into three operational districts - Eastern, Western and Southern. Major hospitals are located in Northam, Narrogin, Merredin and Moora with 18 smaller hospitals and 15 health centres operating throughout the region. As the population grows north of Perth, there has been a recent focus on planning for services in the coastal Wheatbelt strip. Service sites such as hospitals and multi-purpose centres cater for local health needs and support service provision to surrounding towns.
The Wheatbelt region consists of more health service sites than any other region in regional WA, across an area approximately the same size as Victoria. Current health services include emergency care, acute and sub-acute inpatient care, residential and community aged care services, mental health and population health (including Aboriginal health, allied health, community health, health promotion & public health services).
Find out more about health services in the Wheatbelt