Telehealth – delivering virtual care closer to home
Connecting virtually with telehealth lets you talk to your health care provider by video or telephone from your local hospital, health clinic or even from home if you have good internet coverage and a suitable computer, tablet or phone.
There's no need to drive kilometres for a health care appointment or pay for accommodation. It means you can stay home with your family, take less time off work and still receive quality health care.
You will save time and money not having to travel to your outpatient appointment and a family member or friend can be there to support you. X-rays or test results your specialist needs to see can be organised before your virtual care appointment.
Not every appointment can be by telehealth but the easiest way to find out if your next appointment can be is to ask your healthcare provider.
See the latest information on telehealth in WA.
(Click image to enlarge)
An introduction to telehealth in WA (YouTube) shows just how easy a telehealth appointment can be.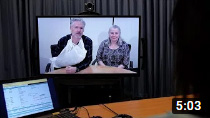 The Emergency Telehealth Service is another important telehealth service provided throughout WA. For further information visit the Emergency Telehealth Service webpage.