WA Country Health Service shines bright in Rural Health Excellence Awards with 19 finalists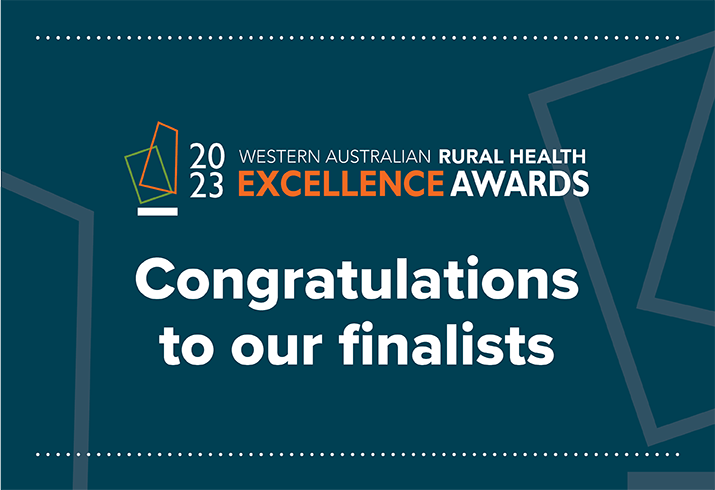 More than 30 health professionals and teams have been shortlisted from over 130 nominations for this year's WA Rural Health Excellence Awards – including 19 WA Country Health Service (WACHS) finalists.
Hosted by WACHS and Rural Health West, the annual awards recognise and celebrate the outstanding contributions of rural health professionals in clinical practise, leadership, research, education, innovation and improvement and community health.
WA Country Health Service Chief Executive Jeff Moffet said this year, more than ever, it was important to recognise that country clinicians go above and beyond for their communities.
"There's no doubt the last two years have been challenging for the health sector. But thanks to the support and leadership of our country health workforce, it's a challenge we've been able to rise to," Mr Moffet said.
"Together, we manage the health needs of communities spanning more than 2.55 million square kilometres.
"The collective skill and talent we have caring for country communities is unmatched and the Rural Health Awards are a very important way to recognise the remarkable contributions of our people."
Rural Health West Chief Executive Officer Tim Shackleton said this year's nominations highlighted the incredible calibre of health professionals working in country WA.
"The selection process has become harder and harder for those on our judging panels, as some of the work being undertaken is simply phenomenal," Mr Shackleton said.
"It's particularly gratifying to see such strong competition in our Rising Star category, which suggests that we have a very strong cohort of early career professionals poised to transform their workplaces and improve the health and wellbeing of communities in years to come.
"We are extremely proud to celebrate all of the health professionals nominated this year for their commitment, dedication and passion."
A panel of clinicians and representatives from rural and health organisations selected the finalists across twelve award categories.
The winners of the 2023 WA Rural Health Awards will be announced at an awards ceremony held during the WA Rural Health Conference on Saturday, 11 March 2023.
Award

First Name

Organisation

Building Healthy Country Communities

WA Country Health Service Pilbara Palliative Care Service

Diabetes Telehealth for Country WA, Diabetes WA

Warren Blackwood Enhancing Primary Health initiative, collaborative of primary health providers in Manjimup and Bridgetown

Clinical Leadership

Dr Jonathan Blundell

Broome Regional Aboriginal Medical Services

Helen Stuart

WA Country Health Service – Bridgetown

Dr Joy Rowland

Department of Justice

GP of the Year

Dr Michael Dewing

Bridgetown Medical Group

Dr Olga Ward

Eastern Wheatbelt Visiting GP Service

Dr Kylie Sterry

Plaza Medical Centre, Kalgoorlie

Metropolitan-based Bush Champion

Dr Justin Yeung

WA Country Health Service –Command Centre

Dr Lewis Marshall

South Metropolitan Health Service – Fremantle

Professor Donna Mak

The University of Notre Dame Australia – Fremantle

People's Choice

Laura Black

Westonia Shire Surgery

Dr Rohan Carter

Geraldton Regional Aboriginal Medical Service – Murchison Outreach Service

Alex Craig

Karratha Eye Care

Rising Star

Kyra King

Goldfields Physio

Paige Weaver

WA Country Health Service – Boyup Brook

Aimee Tingey

WA Centre for Rural Health – Geraldton

Rural Allied Health Professional of the Year

Sarah Tomlinson

WA Country Health Service – Kununurra

Sally Rogers

Earl Street Physiotherapy

Alex Craig

Karratha Eye Care

Rural Nurse/Midwife of the Year

Chantelle Pears

WA Country Health Service – Pilbara

Catherine Kirby

WA Country Health Service – Eastern Wheatbelt Primary Health Service

Jemima Higgins

South West Aboriginal Medical Service

Rural Researcher or Educator

Associate Professor Bronwyn Peirce

The Rural Clinical School of WA and WA Country Health Service – Bunbury

Kathryn Fitzgerald

WA Centre for Rural Health – Geraldton

Associate Professor Michele Gawlinski

The Rural Clinical School of WA – Perth

Specialist of the Year (non-GP)

Dr Jared Watts

WA Country Health Service

Dr Pushpika Gunaratne

WA Country Health Service – Goldfields

Dr Angela Alessandri

WA Country Health Service – Great Southern

WA Country Health Service – Intern of the Year

Dr Lucy Irvine

WA Country Health Service – Bunbury

Dr Angela Park

WA Country Health Service – Broome

Dr Josaphine Sadler

WA Country Health Service – Albany

WA Country Health Service – RMO of the Year

Dr Michelle dos Santos

WA Country Health Service – Bunbury

Dr Renita Whittle

WA Country Health Service – Broome