Completed project - Albany Health Campus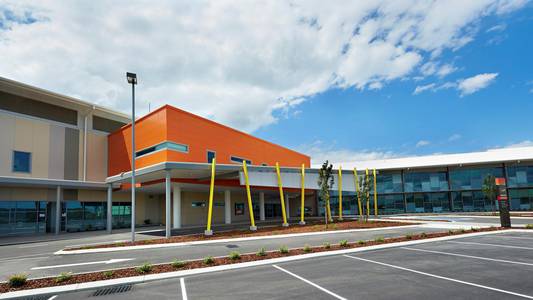 ED and inpatient wards
Emergency Department (ED)
Entry is off Warden Ave and the ED is available 24 hours a day, seven days a week. Please call 000 if you are experiencing an emergency.
Inpatients
Entry is off Warden Ave.
Pharmacy and all allied health services
Entry is off Warden Ave. Please visit reception for directions and appointments.
Services include:
all allied health
pharmacy
specialist clinics
continence
wound clinic
Hospital in the Home
urology and stomal therapy
McGrath Breast Care Nurse
cancer nurse coordinator
SolarisCARE Cancer Support Centre
Community Mental Health Services
Entry is off Hardie Road. Please contact 9892 2440 if you have queries regarding your appointment.
Improved services
The Albany Health Campus offers enhanced services in modern facilities with superior care for patients and a better working environment for staff.
Expanded emergency department
Seven additional treatment bays, resuscitation bays and a short-stay observation unit. It also has treatment rooms especially designed for treating children and patients with mental illness. Treatment bays have solid walls instead of curtains for greater privacy. The ED has its own 24/7 entrance for fast access.
Improved surgical services
A purpose-built surgical centre allows more elective and day surgery patients to be treated in one area of the hospital, minimising transfers and making life easier for patients. It includes three operating theatres, a procedure room and a dedicated endoscopy room.
High dependency unit
Treatment for acute and critically ill patients, including a negative pressure isolation room with its own ventilation system to prevent contagious diseases spreading. It also includes a waiting room for families and is located near a lift for fast access to surgery.
Inpatient wards
Wards feature a mix of double and single rooms, all air conditioned. Patients have access to TV. Negative pressure isolation rooms enable better infection prevention for contagious diseases.
Sub-acute care unit
The first purpose-built unit of its kind in regional WA, the unit caters for adult patients requiring rehabilitation. It has its own courtyard.
Mental health unit
Mental health has its own dedicated and private entrance away from the main hospital entrance. There are more inpatient beds. A dedicated dining area, activity lounges and courtyard, along with bedrooms with ensuites will help secure mental health patients by providing a less clinical environment. Outpatient mental health services are adjacent. When it opens, the four-bed secure unit will be the first of its kind in the Great Southern region.
Cancer centre
The Cancer Centre brings together key services for cancer treatment including specialist doctors and nurses, physiotherapists, nutritionists, counsellors, palliative care nurses and Cancer Council support services. There are also complementary therapies such as massage and aromatherapy, all of which play an important role in patient care and treatment.
Medical imaging (X-rays)
Patients can access a full range of services including X-ray, CT scans, mammography, ultrasound and fluoroscopy. The medical imaging service is provided by Great Southern Radiology.
Maternity, infants and paediatrics
Three birthing rooms all have ensuites and a bath, as well as state-of-the-art technology. Patients have private bedrooms large enough to allow for baby bathing and all have ensuite bathrooms, and relaxing natural light.
The special care nursery
This special unit cares for sick and/or slightly premature infants (born at 36 weeks or later). It includes resuscitation facilities.
Paediatrics
The paediatrics department includes a combination of shared and private rooms, each room with its own ensuite. It has a negative pressure isolation room for infectious disease and a play room for recreation.
Did you know?
Big facts about Albany's health campus:
There is approximately 1000km of electrical cabling and 270km of data cabling in the hospital as well as over 8km of hot and cold water pipes. Added together, these would stretch from Albany to the South Australian border.
Two-metre-tall ovens in the Albany Health Campus kitchen can cook up to 200kg of meat and 100kg of vegetables simultaneously. That's the equivalent of more than 3,000 sausages and 1,000 potatoes.
The kitchen is equipped to make up to 1200 meals a day to allow for future growth and the dishwasher is four metres long and can handle up to 200 racks of dirty dishes per hour.
The hospital laundry cleans about 1,000kg of dirty washing every day, the equivalent of 153 loads per day in a home washing machine. Commercial washing machines can tackle up to 90kg of laundry in one load.
Maps of service locations
| | | | |
| --- | --- | --- | --- |
| | | | |
| | | | |
| | | | |
| | | | |
Planning and development
The Albany Health Campus is the largest public health construction project undertaken in regional Western Australia. Construction work began in early 2011 the campus opened in mid-May 2013.
Building process
It was decided that the new Albany Health Campus was to be built on the existing hospital site on Warden Avenue, with the existing hospital remaining open while the new campus was under construction. Most of the existing 1961-built hospital will be demolished once the transition is fully completed.
In July 2010 John Holland Pty Ltd was selected to develop the design of the new hospital to the point where a firm price for the construction of the campus could be offered to the State. Master planning and schematic design were completed from July-November 2010. Detailed design and early site works began in January 2011.
Key stages of the development
| Date | Status |
| --- | --- |
| 20 January 2010 | Expressions of Interest (EOI) called for ECI |
| Early 2010 | Finalisation of Provisional Master Plan |
| February 2010 | Project Definition Plan completed |
| July 2010 | Appointment of 'Early Involvement' contractor |
| July - late 2010 | Schematic design development |
| December 2010 | Schematic design development |
| Early 2011 | Construction begins, site fence erected, demolition of some existing buildings |
| February 2011 | Detailed design workshops with user groups |
| Late 2012 | Construction complete |
| 2013 | Opening of new hospital |
Frequently asked questions
This section contains frequently asked questions, links and information about the new Albany Health Campus and the services it provides for the Great Southern community.
What is the Albany Health Campus?
The $170.4 million Albany Health Campus is the biggest public country hospital development project undertaken in Western Australia.
The new Albany Health Campus includes an expanded emergency department, more mental health beds, improved renal dialysis, more cancer services, a new surgical centre and upgraded maternity services.
Patients can enjoy fully air conditioned and heated surrounds, state-of-the-art equipment and a new patient entertainment system offering television and useful information.
Albany Health Campus is able to provide health care closer to home for around 60,000 people in Albany and across the whole Great Southern region, in a setting to rival any modern city hospital.
Where is it?
The Albany Health Campus is corner of Hardie Road and Warden Ave, next door to the old hospital building. The main entrance and the Emergency Department entrance are off Warden Avenue. The entrance to community mental health is off Hardie Road.
What are the phone numbers and visiting hours?
Emergency: Dial 000
Hospital reception: 9892 2222
What surgery will I now be able to get done in Albany?
The new Albany Health Campus makes available a wider range of surgical services to Great Southern patients, thanks to a new surgical suite on the first floor of the campus with three times the number of theatres than the old hospital.
One of WA's most experienced breast cancer surgeons recently joined the staff, adding to Albany's team of general, orthopaedic and gynaecological surgeons.
In addition to full-time staff, Albany also has visiting specialists focusing on plastic, orthopaedic, ophthalmic, ear nose and throat and urological surgery.
What is Telehealth and how would that help me?
Telehealth provides real-time link-ups between specialists in Perth with patients in regional areas, enabling patients anywhere in WA to gain access to the best medical treatment in the state.
The Albany Health Campus will support smaller hospitals in the region as well as helping patients to consult specialists by video conference instead of travelling to Perth.
The campus facilitates more than 40 secure, high-definition Telehealth units region-wide, from Denmark to Katanning and Ravensthorpe, providing the link between the patient and consultant through both metropolitan and regional hospitals.
What kind of cancer treatment and care will be available?
The Albany Health Campus brings key cancer services under one roof to make treatment that little bit easier for patients. The new Cancer Centre will house specialist medical and support services so patients won't have to face the added burden of travelling across Albany for the treatments they need.
These include chemotherapy, the McGrath Breast Care Nurse, palliative care, Cancer Council WA, SolarisCare, specialist doctors and nurses, physiotherapists, nutritionists and counsellors.
The new centre has the capacity to treat almost double the number of patients in Albany, rather than sending them to Perth for treatment, with the addition of three more chemotherapy chairs to bring the total to seven.
There will also be complementary therapies such as massage and aromatherapy, all of which play an important role in patient care and treatment.
In the near future, the centre will provide accommodation for patients and carers from other areas of the Great Southern to stay while they are in Albany for treatment.


News