Completed project - Kalgoorlie Health Campus
Clinical works complete
Local residents and surrounding communities are enjoying improved patient services with more options for visiting clinicians to accommodate future demand.
Visitors and locals from the Goldfields and surrounding areas now have access to upgraded, modern treatment facilities with all clinical works in the $59.6 million redevelopment of Kalgoorlie Health Campus complete.
Officially opened on 28 August 2015 by Health Minister Dr Kim Hames, the Goldfields and surrounding areas have more options for local, modern treatment.
The project was jointly funded by State and Australian Governments and included $15.8 million from the State Government's Royalties for Regions program.
The completion of clinical works includes a $3.8 million Commonwealth-funded cancer centre providing four chemotherapy chairs, a treatment room, a group meeting room and consulting rooms for outpatient and oncologist appointments.
These works seamlessly tie into earlier phases of the redevelopment which included a palliative care unit, new emergency department, high dependency unit and medical imaging department.
Emergency department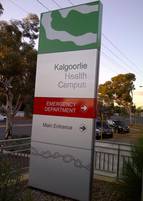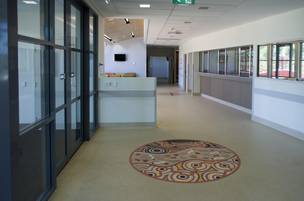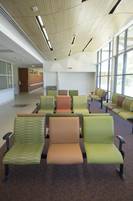 KHC now boasts a new emergency department (ED) and medical imaging unit providing vital health services to more than 56,000 Goldfields residents, including a large number of fly-in-fly-out workers, in modern, well equipped buildings.
This most extensive phase of the redevelopment involved the demolition of a 50 year old building and construction of a new block on the front of the new site which became operational in November 2012.
Features include:
a new front entrance and foyer to the emergency and medical imaging departments
increased capacity on the ED from 11 to 16 treatment bays including resuscitation bays for patients requiring the highest level of care as well as isolation and single treatment rooms
a fast-track facility to reduce waiting times
a four-bed observation ward and six-bed special care unit co-located with the emergency department
locating the medical imaging department adjacent to the ED ensures close proximity of most of the hospital's acute services.
Palliative care unit
A $2.7 million palliative care unit was officially opened by Minister for Health Dr Kim Hames in December 2010.
These facilities were specifically designed to offer patients and their families much needed comfort and privacy. The comprise three large single bedrooms, each opening to a private courtyard, en-suite facilities, kitchenette and a sofa bed for overnight visitors and carers.