Completed project - Karratha Health Campus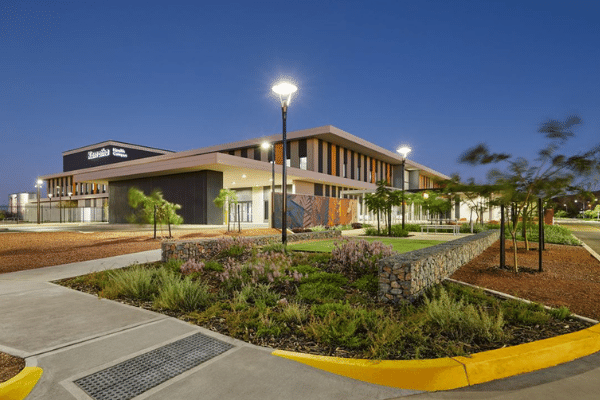 The $173 million Karratha Health Campus (KHC) has been built in the town's centre and replaces Nickol Bay Hospital which has now closed forever.
KHC is the largest health infrastructure investment in regional WA's history and heralds a new era in healthcare facility design for the Pilbara region.
It has an expanded emergency department, a new CT scanner, a brand new surgical centre, new delivery suites and maternity wing, world-class Telehealth services, new and expanded outpatients and essential services such as child health and medical imaging, all under one roof.
Improved facilities
In addition to outstanding emergency and hospital care, KHC provides a comprehensive 'one-stop shop' for the delivery of integrated health services including physiotherapy, speech therapy, counselling, community health nursing and community mental health.
KHC will also provide valuable support to smaller regional hospitals including Roebourne, Tom Price, Paraburdoo and Onslow.
Well-equipped health facilities are grouped together under one roof bringing care closer to home for the local community.
Upgrades include:
a new 40-bed facility with significantly expanded emergency department
new CT scanner, surgical ward, maternity wing and delivery suites
expanded facilities for outpatients and essential services such as child health and medical imaging, brought together in a single health care hub
world-class telehealth services
helipad.
Did you know?
Fun facts about Karratha Health Campus:
more than 500,000 hours were put into building the new campus
the state-of-the-art kitchen can produce up to 60 meals a day
the laundry can handle the equivalent of more than 230 average weekly household washes
around 70% of the workforce lived in Karratha during the build
fifty four specially purchased pieces of art adorn the walls
Karratha is an Aboriginal word meaning 'good country' or 'soft earth'
more than 22,000 pieces of equipment, furniture and fittings have been installed at the new campus.
Click on the images below to view the videos and photo gallery. Videos open best in Google chrome.
Bird's-eye-view drone footage -

open in Google Chrome

Fly throughs -

open in Google Chrome

Time lapse video as at November 2017

- open in Google Chrome

Karratha Health Campus layout

Alternative map layout
Working in partnership
The Karratha Health Campus is a collaborative partnership between a number of agencies working together to deliver a world-class health facility.
These include:
WA Country Health Service (WACHS)
Department of Treasury's Strategic Projects
The resources sector through the Pilbara Health Initiative

Frequently Asked Questions (FAQs)
Got a question? Check out these FAQs on Karratha Health Campus. If you have a question that is not answered, let us know!
Why did Karratha need the new hospital?
The mining construction expansion over the last 10 years saw a change in demographics and population growth in Karratha which became a vibrant regional hub. The new Karratha Health Campus (KHC) provides the people of Karratha with a state-of-the-art facility to deliver health care closer to home.
KHC replaces the ageing Nickol Bay Hospital (NBH) commissioned 35 years ago and the Warambie community and population health centre.
It provides a one-stop-shop for health care bringing a range of services together under one roof.
Facilities are modernised with a significantly expanded emergency department and improved emergency response capacity with an adjacent helipad, brand new surgical centre, maternity wing and birthing suites.
Population health, community mental health and comprehensive outpatients services are co-located under one roof.
Like Nickol Bay Hospital, the new campus was designed to withstand the extreme climate and conditions of the Pilbara region.
By locating the new campus in the town centre, it contributes to the revitalisation of the town, further supporting the growth of Karratha as a vibrant regional hub which makes the region attractive to health professionals as a place to work and live.
What does the new facility have?
Well-equipped health facilities grouped together under one roof bringing care closer to home for the local community.
The campus has a range of state-of-the-art equipment including:
a new 64 slice CT scanner
improved maternity wing and birthing suites with ensuite shower rooms, family zones and baths to assist pain relief in labour
six maternity inpatient rooms with built-in baby baths and a family room close to the birthing suites for family members to gather.
Telehealth services and new videoconferencing facilities, including Emergency Telehealth Services, which link local medical staff and patients to WA's leading emergency and specialist practitioners at other hospitals if needed
a new surgical centre
Patient Entertainment Systems giving patients access to basic health and hospital information as well as a range of entertainment options.
What equipment was transferred from Nickol Bay Hospital to Karratha Health Campus?
A huge amount of detail goes in to sourcing the right equipment for a new hospital.
Karratha Health Campus staff and patients currently benefit from some of the world's most modern healthcare equipment.
More than 22,000 individual pieces of furniture, fittings and equipment were moved into the campus as existing manually operated equipment was replaced with the latest electric models, improving patient comfort and safety and reducing risk of injury to staff.
While the majority of equipment was new, existing models which met required standards were transferred to the campus.
Any GP rooms included?
There are no GP specific rooms. However, consulting rooms are available for resident and visiting specialists and doctors providing services at the campus.
What happened to Nickol Bay Hospital when the new campus was completed?
The building was set up to be decommissioned and secured pending a Government decision on the disposal of the site.
How many local contractors were engaged on the project?
As at 23 August 2017, almost 700 people were inducted to the site, averaging between 140 to 160 contractors on site each day (approximately 80% of these were locally based).
Why spend money on public art when it could be spent on new equipment or other important health services?
Artwork helps to humanise the hospital environment and create a sense of cultural and community identity. Hospitals can sometimes involve long periods of waiting and peaceful, calm colours can help reduce stress and anxiety.
Artwork is also used as wayfinding to help people navigate around a new hospital.
A community consultation was held with local Aboriginals and Elders to ensure designs, landscaping and colours were culturally appropriate for the new campus.
A number of public artworks were secured from artists with connections to the Pilbara region. The art was sourced from the Cossack Art Awards Exhibition and the Colours of Country exhibition.
It is Government Policy to allocate up to 1% of total construction costs on major building projects to the acquisition of public art.
What colours were chosen for the new campus?
The campus boasts artistic flair inspired by the local flora, in particular the native colours of wattle and senna glutinosa plants. Green, silver, blue and gold accents were used internally and externally.
Are there sufficient car parking bays?
Yes. Staff and patient car usage has been analysed and a recommended number of bays has been agreed with room for future expansion.
Is there a café and ATM at the new campus?
Given the location close to the Karratha city centre, there is no dedicated café located within KHC. A number of facilities are available within a short walk from the campus. There are no plans for an ATM.
Given the number of mobile phone blackspots (dead zones where mobile phones cannot be used) in the current hospital and other recently built state-wide facilities, was this considered in the design of KHC?
This has been an important design factor in the design of KHC and a lesson learned from other projects. A distributed antennae system has been installed throughout the new building to ensure continuous mobile phone coverage.
Is there free WiFi?
There is no free public WiFi, however patients have access to the internet via the bedside Patient Entertainment System which also provides access to various entertainment options including free-to-air TV, local radio and a range of local content such as healthcare and regional information.
What happened to the transportable buildings on the NBH site?
There were a number of options for the re-use of the buildings with no decision made at the time.
Photo gallery
Take a look inside the Karratha Health Campus in photos.
| | | | |
| --- | --- | --- | --- |
| | | | |
| Colourful screening | New medical students | CT scanner | Inpatients nursing station |
| | | | |
| Speech pathology session | Artwork is a key feature | PANDA cots in nursery | Karratha laundry |
| | | | |
| --- | --- | --- | --- |
| | | | |
| Patient Entertainment System | Inside the main reception | ED isolation room | Maternity room |
| | | | |
| Ambulance entry artwork | First baby born | Stairwell art by Leanne Bray | Whale frosting on glass |
News