Country communities to receive specialist stroke advice 24/7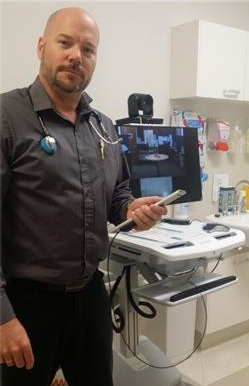 Dr Jason Pierce with one of the mobile TeleStroke videoconference units used by regional hospitals to allow neurologists in Perth to see country patients.
Around 700 people in rural Western Australia suffer from a new stroke every year, with regional Australians 19 per cent more likely to suffer a stroke than those living in metropolitan areas.
Due to their geographical location, it is important that country residents have speedy and streamlined access to specialist stroke consultants.
Understanding this, in 2015 the Department of Health partnered with the WA Country Health Service (WACHS) and metropolitan health service providers to establish the WA Acute TeleStroke Service to provide stroke patients with access to specialist consultants who are based in metropolitan tertiary hospitals.
Since then, there has been a 400 per cent increase in country patients receiving access to clot retrieval treatment, with 37 patients in 2018/19.
The WA TeleStroke Service will soon be expanded to operate 24/7 so that country communities and people living in outer metropolitan areas will be able to access specialist consultant advice whenever they need it.
The future expansion will enable emergency departments across country WA to rapidly transfer CT brain images, data and documentation with real time end-to-end patient assessment through a contemporary technological platform.
Stroke specialists will be able to quickly diagnose the patient, determine appropriate treatment and potentially recommend rapid transport to Perth for surgical removal of a blood clot from the affected area of the brain.
WACHS A/Clinical Telehealth Program Manager Kate Hawkings said the service expansion would enable around-the-clock access to life-changing stroke treatments for country patients.
"The improved communication and integrated information technology platforms will improve service equity and in many instances provide country patients with immediate care close to home," Kate said.
"Time is of the essence in order to save lives and prevent the life-long disability that can be brought on by a stroke and this expanded service will ensure every potential stroke patient has an opportunity for the best health outcome."
Access to 24/7 TeleStroke services is currently in development and is expected to commence in mid-2021.
The WACHS Innovation and Development Outpatient and Reform program has supported access to the WA Acute TeleStroke Service through implementation of local acute stroke pathways and protocols in collaboration with the WA Stroke Services Director, WACHS stroke clinical leads, metropolitan stroke specialists, and imaging and emergency service providers.
Additionally, the WACHS-Curtin partnership is currently supporting evaluation of impact of telehealth in ED, including an Acute TeleStroke case study.