Margaret River welcomes first baby born via water birth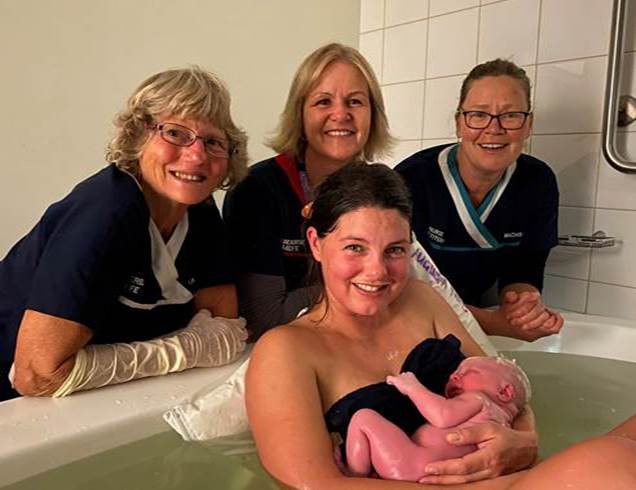 Amy with her minutes-old newborn Doug, supported by midwives (L to R) Cheryl Gordon, Melony Halsall and Narelle Lukins.
The Margaret River Hospital has welcomed its first baby born via water birth. Baby Doug arrived on 6 October to his proud parents Amy and John.
In a water birth, the mother is immersed in water to labour and birth her child. It is widely reported that the warmth and buoyancy of the water help lessen labour pains, often meaning that no other methods of pain relief are required.
The birth is always supported by two midwives and once born, the baby is gently supported to the surface by a midwife to take its first breath.
The hospital had previously received numerous requests to facilitate water births. Planning for it commenced in 2019 and involved procuring birthing tubs as well as ensuring an appropriate bath evacuation process was in place, should an emergency occur.
Midwifery Coordinator Melony Halsall said the community had expressed interest in having water immersion as a birth option for pain relief during labour and the birth.
"Our team worked really hard to make it a reality and we are pleased that we can now provide this birth option in the South West," she said.
"Water immersion has been used for centuries to help during childbirth and it is often described by women as a peaceful, natural, and instinctive connection to both their baby and birth partner.
"This is a massive step forward in providing a more comprehensive midwifery service for the local community.
"Heartiest congratulations to Amy, John and Andi on the birth of little Doug. We wish them the very best."
Water births have been proven as an effective form of pain relief that also increase relaxation, satisfaction and control for the woman.
The rate of water births is increasing in country WA, with Bunbury the first country hospital to offer water births in 2012.
Women interested in exploring water birth as an option are advised to contact the Margaret River midwifery team on 9757 0400 to discuss their eligibility.