SafeWA app keeping businesses and patrons COVID safe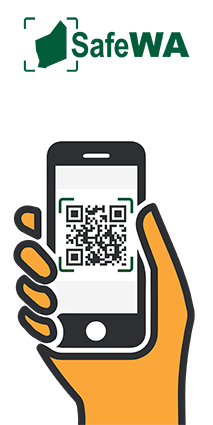 Mandatory contact registers at relevant businesses and venues will be introduced from 5 December 2020. Maintaining a contact register is an extra safety measure and one of the most effective ways to control the spread of COVID-19.
WA Health has developed a free, safe, simple and secure contact register app, SafeWA to help businesses comply with this requirement.
Businesses or venues required to keep a contact register, will include:
food and licenced venues (restaurants, cafés, bars, pubs, taverns, nightclubs)
gyms, indoor sporting centres and pools
places of worship and funeral parlours
beauty and personal care services including hairdressers and barbers
galleries and museums
cinemas, theatres and other entertainment venues
auction houses and real estate inspections
community facilities, libraries and halls
zoos and amusement parks
function centres
accommodation facilities that already have check-in arrangements in place (i.e. hostels, hotels, large camp grounds).
The SafeWA app was developed to make it easy for businesses and venues to check in patrons.
The app is available for download from the Apple App Store or Google Play and while it's not mandatory to use the app, it is encouraged.
Alternative formats including other electronic or paper-based systems may be used by the venue.
More information about how to register on the app and how it's being used is available on www.wa.gov.au/SafeWA.