Sound partnership between WA Country Health Service and Kimberley Aboriginal Medical Service improves kid's ears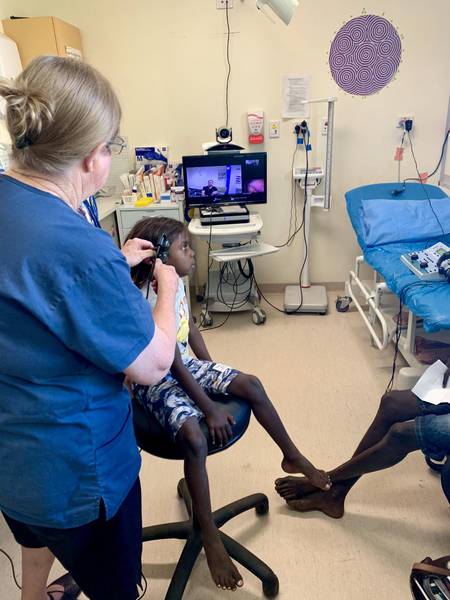 Jenny and Letizah video otoscopy at Kimberley TeleENT clinic.
WA Country Health Service (WACHS) led Ear Nose Throat (ENT) service via telehealth, known as TeleENT is improving access to important medical services for Kimberley communities with assistance from the Kimberley Aboriginal Medical Service (KAMS).
Before the introduction of the TeleENT service, many Halls Creek, Balgo and Kupungarri community members with ear, nose and throat issues travelled to Broome, Kununurra, Derby for outpatient appointments.
With the ability to drive just a short distance or walk to their local clinic, TeleENT can save patients travel time and costs and limits time away from work or school.
WACHS Regional Director (Kimberley) Bec Smith said that working with KAMS has helped decrease the number of patients who don't attend their booked TeleENT appointments.
"KAMS actively follow up with community members and help to make them feel comfortable before their appointment," Ms Smith said.
"They also run a general health assessment prior to the TeleENT clinics."
Ms Smith said that schools with TeleENT children have reported positive feedback.
"Teachers have told us that the kids are finding it easier to learn because their ear problems are being addressed."
"Children living in remote communities have some of the highest rates of chronic ear disease in the world so it's important to ensure accessible treatment options which TeleENT provides to the community."
Another benefit of the service is for local nurses and Aboriginal health workers who received additional training and learned new skills in ear health to improve services for the Kimberley region.
In 2019, telehealth enabled an increase in scheduled ENT outpatient clinics for Halls Creek and improved health outcomes for Aboriginal communities.
The Kupungarri, Dodnun and Imintji communities can become inaccessible during wet season making telehealth a vital way to ensure residents have year-round access to ENT care.