Broome eye clinic to deliver brighter outlook for Kimberley residents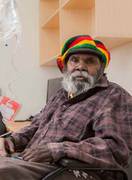 The State Government has committed $4.7 million to the first permanent resident Lions Outback Vision (LOV) eye clinic in the Kimberley.
The funding will enable residents across the Kimberley to receive treatment and prevention services for serious eye diseases on country and close to home.
The LOV Northwest Eye Hub will include ophthalmologists, optometrists, Aboriginal health workers and nurses to provide care for residents with cataracts, trachoma and glaucoma as well as those with low vision and permanent blindness.
It will also provide screening and management of diabetic retinopathy, a serious disease responsible for 14 times' greater incidence of vision loss for Aboriginal Australians than non-Aboriginal Australians.
The clinic will provide outreach services to Derby, Fitzroy Crossing, Halls Creek, Kununurra, Wyndham and Warmun with specialists travelling from Broome to treat patients in their local hospitals or clinics.