Geraldton doctors pass emergency medicine training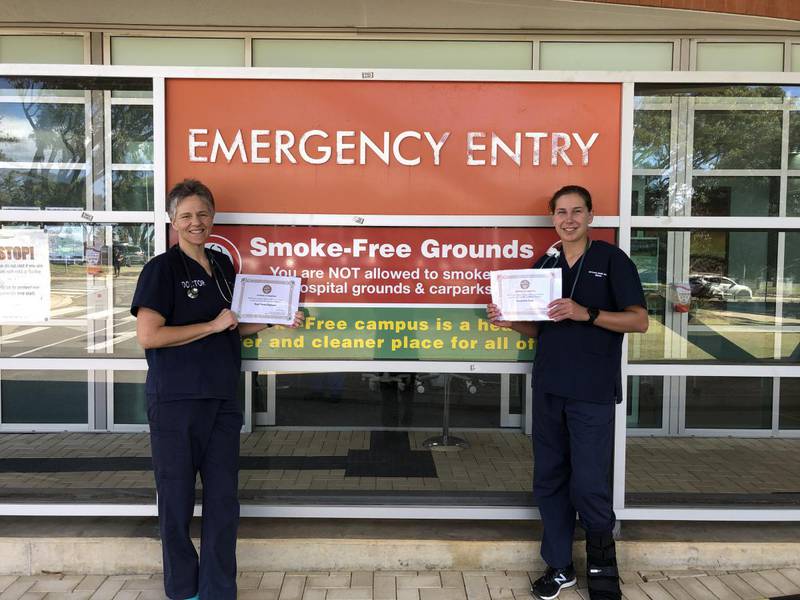 L-R: Dr Ruth Highman and Dr Emma Jones outside Geraldton Health Campus emergency department.
Two Geraldton Health Campus emergency doctors have successfully passed their Emergency Medicine training programs following months of learning, assessments and practical demonstration of skills.
The WA Country Health Service (WACHS)'s Dr Ruth Highman has completed the prestigious Australian College of Emergency Medicine Emergency Medicine Diploma (EMD), a training program which takes 18 months to complete.
"I was eager to complete the EMD as it was another opportunity for me to continue learning. I had already completed the Emergency Medicine Certificate and found it very valuable learning and thought this would be another opportunity to extend my skills," Dr Highman said.
"I believe this program is of particular use to GPs who wish to work in an emergency department."
Dr Emma Jones recently finished the Emergency Medicine Certificate which takes six months to complete.
"As a junior doctor it was good to complete this training program which had online resources, discussion points for talking with senior doctors as well as relevant practical components," Dr Jones said.
"I found it a rewarding process as there was structure and learning modules that you then got to put into practice when caring for a patient. This format helped to consolidate my learning."
"I would recommend other doctors also complete these certificates," Dr Jones added.
Under the supervision of Dr Chris Kruk, an approved Australian College of Emergency Medicine supervisor, both doctors demonstrated outstanding competency in emergency medicine.
"Dr Highman has demonstrated she has the knowledge and skills to independently manage and treat a range of complex emergency presentations," Dr Kruk said.
"As a junior doctor I was pleased with Dr Jones' progress throughout the Emergency Medicine Certificate program. It provided her with the knowledge and skills to manage and treat patients with common emergency presentations allowing her to deliver safe patient care."
"WACHS clinical staff are well supported and encouraged to do additional training and I regularly visit different regional sites as part of WACHS' Emergency Medicine Education and Training program to offer education that can be tailored to the needs of the individuals and sites," Dr Kruk added.
In 2019 WACHS staff in the Midwest region attended 48 education sessions through the Emergency Medicine Education and Training program.