Goldfields residents to receive MRI technology soon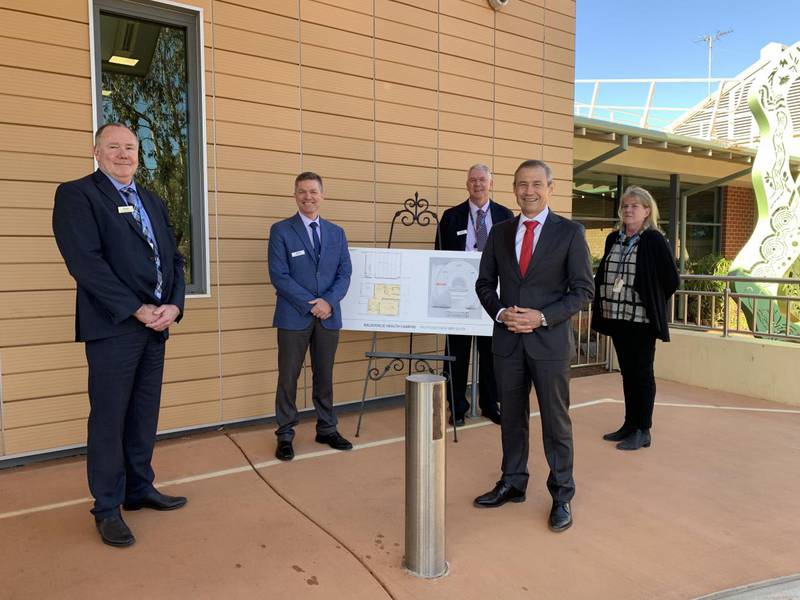 L-R WACHS Goldfields Regional Director Peter Tredinnick, Kalgoorlie Health Campus Director Medical Services Neill Kling and Operations Manager David Bowdidge, WACHS Redevelopment Project Officer Stacey Roney and Health Minister Roger Cook.
Magnetic Resonance Imaging (MRI) technology will soon arrive in the Goldfields region for the first time, with Siemens Healthcare Pty Ltd awarded the contract to supply and install an MRI machine at the Kalgoorlie Health Campus.
The 1.5T Magnetom Sola MRI machine has the unique ability to perform remote scanning of patients, allowing technologists who are based in Perth or other regional sites to connect to the machine and provide real time technical support and training.
In 2019, almost 600 patients from the Goldfields accessed the Patient Assisted Travel Scheme to travel almost 1,200 kilometres on a round trip to Perth to receive MRI services.
Having an MRI machine locally will provide residents with timely access to this diagnostic service closer to home, without the added cost and disruption of travelling to Perth.
WA Country Health Service A/Regional Director Peter Tredinnick highlighted the importance of MRI technology to healthcare.
"MRI examinations are useful in diagnosing and monitoring a wide variety of health conditions," Mr Tredinnick said.
"It is important that country residents have access to a modern MRI machine that can cater to the unique needs of country healthcare.
"This will remove the need for patients to travel to Perth for this service and allow them to access care close to home."
The tender to build the $6.27 million MRI suite has been awarded to local Goldfields business ACorp Construction.
Site possession is scheduled for mid-August and operations are expected to be launched in the third quarter of 2021.