Mobile telecarts provide expert medical support to country hospitals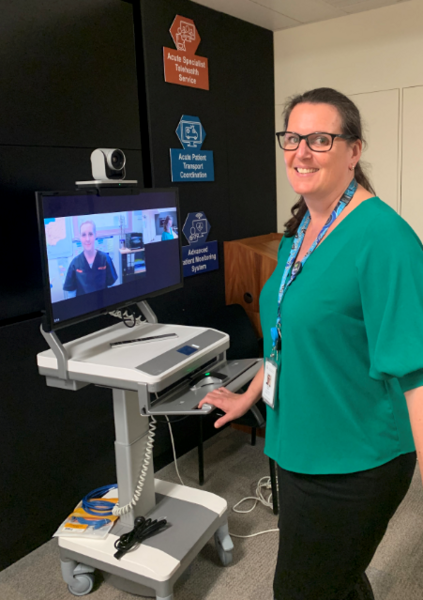 Clinical Nurse Jill Maitland on screen with Command Centre Director Donna Rogers.
The WA Country Health Service (WACHS) Command Centre has sent five mobile telecarts to hospitals across country Western Australia (WA).
The new telecarts delivered to Albany, Bunbury, Geraldton, Hedland and Kalgoorlie will enable local clinicians to work with metropolitan based specialists to manage critically unwell patients.
The devices can be used at any point in the patients journey where support from an ICU specialist and critical care nurse is required.
WACHS Command Centre Director Donna Rogers said that virtual face-to-face assessments by specialists via the telecarts could prove lifesaving to regional patients.
"With the assistance of nurse leaders for each site the new telecarts have been tested and training is currently underway so our country based teams are prepared for a range of medical scenarios where assistance from the telehealth clinician could support them to save a patient's life," Ms Rogers said.
The additional telecarts further support WACHS hospitals and health services and supplement those already in use in Broome and in some WACHS maternity sites.