Our frontline in the air: WACHS WINGS keeping patients and health supplies moving during COVID-19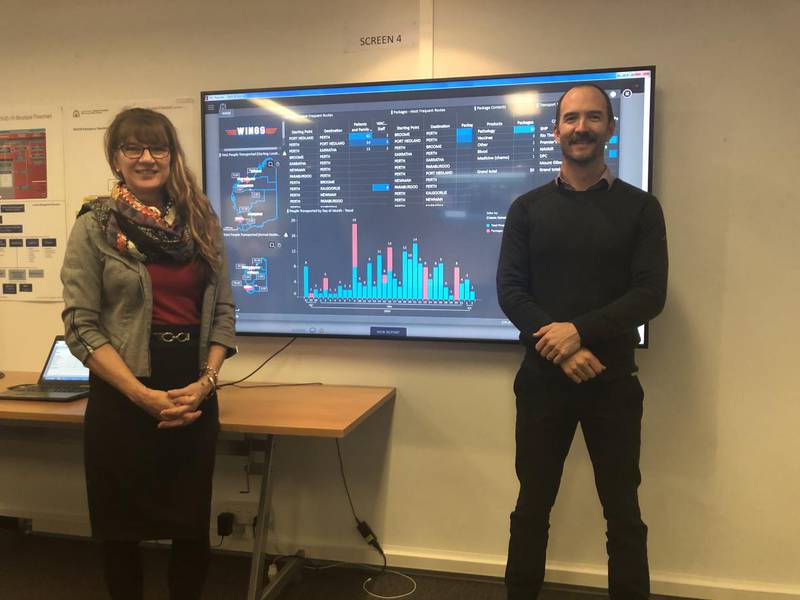 WACHS Chief Operating Officer Margaret Denton with WACHS WINGS Coordinator, Callum Broadway.
Facing travel restrictions during COVID-19 may be an inconvenience for tourists and holidaymakers, but for Point Samson resident Lisa Ogle, it could have meant a delay in getting potentially life-saving scans.
To make sure Lisa made it to her appointment in Perth and home again, the WA Country Health Service (WACHS) specially convened an emergency response transport and logistics team – known as WACHS WINGS – and worked with partners in the resource sector to find seats on charter flights.
Lisa's journey began a couple of years ago after a routine appendectomy uncovered a rare tumour on her appendix.
Every six months she is required to travel from Point Samson to Sir Charles Gairdner Hospital for a gallium PET scan. Missing her May appointment would have meant waiting until November – an option she and her specialist team were not prepared to consider.
"My husband and I thought we'd have to end up driving to Perth – it was really stressful and such a relief when I got a flight," Lisa said.
"The WACHS WINGS team in Perth and Hedland did a fantastic job.
"In just a couple of days they got me on a plane on Sunday night from Hedland with BHP and then back again on Tuesday to Karratha with Rio Tinto.
"I can't speak highly enough of them."
WACHS WINGS was established during COVID-19 to be the 24/7, break glass option when the usual transport providers, such as commercial airlines and logistics companies are unavailable and all other avenues have been exhausted.
It is part of a massive emergency operation that has seen WACHS staff across WA mobilise a response to a health crisis unseen in generations.
Every day, the WACHS WINGS ground crew works closely with the Department of Transport, the resources sector and the Royal Flying Doctor Service to locate seats and cargo space for urgent and essential staff, products and equipment.
Since April, the uncharacteristically quiet WA skies have been buzzing with more than 280 stories like Lisa's: patients, their family members, clinicians, critical staff for other agencies, equipment, blood, vaccines and medicines, transported the length and breadth of regional WA.
Urgent surgical cases, chemotherapy drugs, mental health support, bringing home relatives of critically ill patients – the cases differ every day, but the result is the same; potentially life-changing solutions for regional WA.
WACHS Chief Operating Officer Margaret Denton said her team is proud to lead a specialist transport coordination service as part of the State's pandemic response.
"We really are all in this together.
"We're grateful to BHP, Rio Tinto, Mt Gibson Iron, Woodside, Shell, FMG and Roy Hill, as well as our friends at the Royal Flying Doctor Service and the Department of Transport, other health service providers and the community, who have all helped make this happen," Ms Denton said.
"It's our privilege to connect people who need air services with organisations who are able to provide them.
"To date, we have urgently moved more than 280 people or products across regional Western Australia, working with the challenges of clinical priorities, fluctuating equipment supplies, biosecurity restrictions and of course, the wellbeing of our patients and their loved ones.
"While we hope that transport returns to normal as soon as possible, WACHS WINGS provides us and the community with a reliable alternative."