Pilot to fast-track Pilbara renal patients to transplant waitlist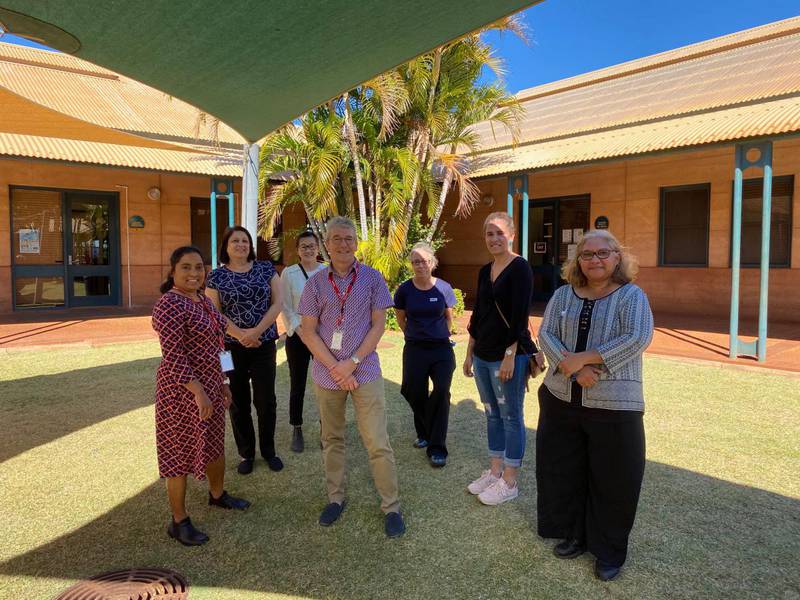 Dr Ashley Irish (centre) with Pilbara and visiting renal teams
A multidisciplinary renal transplant assessment team recently visited Port Hedland to launch a pilot model of care for Indigenous transplant assessment at a series of consumer-focused kidney transplant seminars.
By providing a visiting service to regional locations the time it takes to assess and list patients for renal transplant is expected to reduce, increasing the opportunity for transplantation for Aboriginal patients.
This is the first in a series of visits to regional centres across WA to pilot the model which is an initiative of the National Indigenous Kidney Transplantation Taskforce (NIKTT), funded by the Commonwealth through the Transplantation Society of Australia and New Zealand.
WACHS Clinical Director Nephrology, Dr Ashley Irish lead the multidisciplinary team from Fiona Stanley Hospital to stage both consumer-focused seminars as well as a healthcare workers educational evening session to upskill local health practitioners.
"We've made the consumer-focused seminars open access to provide education sessions for local renal patients and their families," Dr Irish said.
"Most importantly, we visited the region to pilot a new model of care to assess potential transplant recipients and expedite the process to get them on the transplant list," he added.
"Currently, before they are even assessed for transplantation suitability, patients are waitlisted for travel to Perth for an appointment," he said.
Dr Irish highlighted renal failure as being among the highest causes of death among Aboriginal people living in country WA.
"By having a renal transplant assessment team visit the region, the initial assessments are performed on Country delivering a culturally safe and secure service which contributes to reducing inequity in health outcomes and improves access to care for Aboriginal people," Dr Irish said.
"A huge amount of work has gone into launching this pilot model with the multidisciplinary renal transplant assessment team working closely with the National Indigenous Kidney Transplantation Taskforce, the WACHS Pilbara renal team and Aboriginal medical services to deliver a first for WA renal patients," he added.