Portable isolation rooms to better protect country residents from COVID-19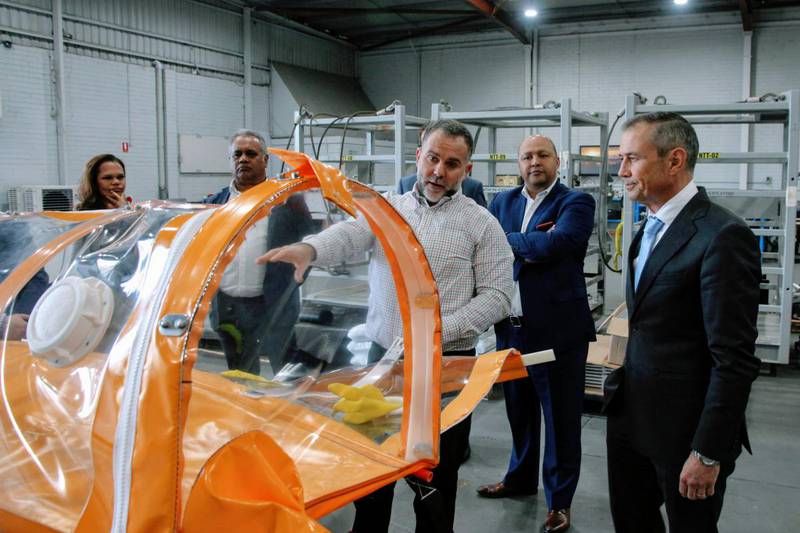 Health Minister Roger Cook at the Safespear site.
Six portable isolation anterooms are to be deployed to regional WA to keep country residents safe from COVID-19.
The State Government has purchased six portable isolation anterooms to help keep regional and remote Western Australians safe from the spread of infectious diseases, including COVID-19.
The Safespear portable anterooms can convert any room into a negative pressure or positive pressure isolation room to keep infected patients in a safe, separate space, as well as protect vulnerable patients from the threat of infectious diseases.
The anterooms fit to an existing doorway and form an airlock entrance with the accompanying ventilation systems creating negative or positive pressure to prevent infectious airborne or droplet transmission.
WA Country Health Service (WACHS) COVID-19 Lead Margaret Denton confirmed the locations the portable anterooms will be deployed to including: Derby in the Kimberley, Carnarvon and Geraldton in the Midwest, Esperance in the Goldfields, Katanning in the Great Southern and Collie in the South West.
"Given this specialised equipment is portable, we are able to quickly move the anterooms to other sites, if required," Ms Denton said.
"Residents in regional WA can be confident that we have comprehensive preparedness plans in place to provide a blueprint for the ongoing management of COVID-19.
"By securing the portable anterooms, we are even better prepared to prevent the spread of COVID-19 in regional and remote communities where hospital isolation room facilities are limited or unavailable," she said.