Red shoes rock in support of an alcohol-free pregnancy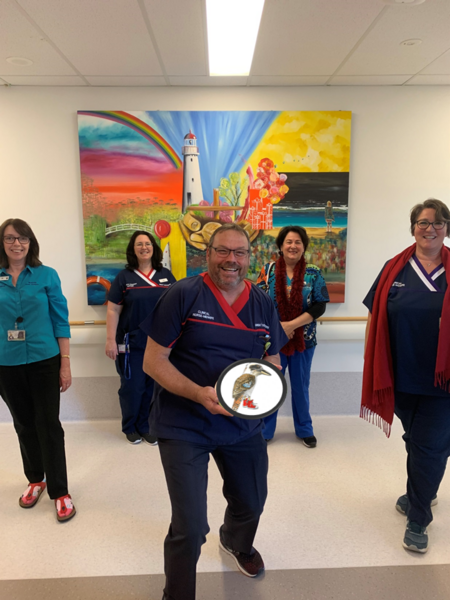 Albany Health Campus maternity ward staff are ready to rock in red
Great Southern workplaces, community groups and residents are being encouraged to wear red shoes to show their support for alcohol-free pregnancies.
On International Fetal Alcohol Spectrum Disorder (FASD) Awareness Day the Red Shoes Rock campaign will raise awareness of the lifelong impacts of FASD.
Held on the ninth day of the ninth month (9 September), FASD Awareness Day aims to highlight the importance of nine months of pregnancy without alcohol.
Clinical Nurse Manager, Maternity and Newborn Services, Natasha Jeppesen and her team of midwives are getting behind the campaign by wearing red on the maternity ward at Albany Health Campus.
"We know that alcohol can harm the developing baby at any time during pregnancy or while breastfeeding, so our advice to all expectant mums and women planning a pregnancy is that no alcohol is the safest choice," Ms Jeppesen said.
FASD is a condition that causes serious physical, mental, behavioural and learning disabilities resulting from fetal exposure to alcohol. FASD is a lifelong condition that cannot be cured, however it can easily be prevented by abstaining from alcohol during pregnancy.
FASD often goes undiagnosed and it is estimated that at least two per cent of the Australian population has some form of FASD. It is a disorder that is not confined to a particular community and it crosses all socio-economic, racial and education boundaries.
Great Southern Regional Director, Geraldine Ennis is encouraging the Great Southern community to take part and don something red on the ninth of the ninth.
"Partners, family members and friends of pregnant women all have a part to play in supporting an alcohol-free pregnancy, so find some red shoes, a red scarf or a red item of clothing and get behind the Red Shoes Rock campaign," Ms Ennis said.
Participants can share their images on social media using the hashtags #RedShoesRock and #FASDawareness.
Red Shoes Rock is a worldwide campaign inspired by RJ Formanek, an adult living with FASD, to highlight the risks of drinking alcohol during pregnancy and to acknowledge that an alcohol-free pregnancy is a whole of community responsibility.
Further information about FASD and resources are available at www.nofasd.org.au.