Stroke patient's rehabilitation aided by exceptional WA Country Health Service South West medical team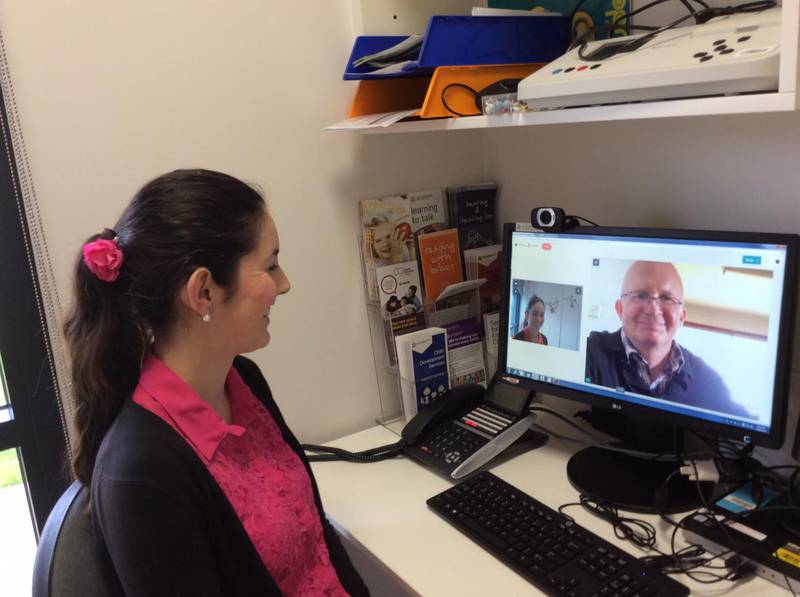 Speech Pathologist Natasha Whelan and Mr Michael Hawksbee during their Telehealth session
When 53-year-old Michael Hawksbee experienced a major stroke earlier this year, the WA Country Health Service (WACHS) Bunbury Hospital team rapidly assessed him and took the necessary course of action for him to undergo urgent lifesaving surgery to extract a blood clot from his brain.
Following his successful surgery, Mr Hawksbee was keen to return home but assumed he would need to remain in the metropolitan area for ongoing treatment.
Cue WACHS South West.
Working closely with their metropolitan counterparts, the South West Outpatient Stroke Speech Pathologist and Speech Pathologists based at Manjimup, Donnybrook and Collie developed a plan for Michael to access rehab care close to home – something he says aided in his recovery.
"I would like to thank the entire WACHS South West team and local Speech Pathologist Natasha Whelan for enabling me to be treated without having to relocate temporarily to Perth, especially during the COVID-19 pandemic," Mr Hawksbee said.
"The telehealth therapy sessions have been fantastic and the wider team is constantly checking in on me, which has been very encouraging in my recovery."
Speech Pathologist Natasha Whelan said Mr Hawksbee's pace of recovery is testament to the hard work he put in.
"There has been a huge improvement from when we first started our sessions to now.
"Mr Hawksbee has made excellent progress in his ability to have conversations and we are now focussing on more complex tasks like research and writing.
"We know how important it is for Mr Hawksbee to go back to University in the new year and so our team of experts are working hard to help him reach that goal."
Mr Hawksbee had only graduated from Edith Cowan University with a Bachelor's Degree in Security Management and post-graduate study in Occupational Health and Safety in February 2020, the month before his stroke. He is keen to pursue further studies next year.
WACHS South West Regional Director Kerry Winsor said Mr Hawksbee's story was inspiring to regional communities.
"It is a win for the Bunbury team to have acted so quickly in the narrow window to ensure Mr Hawksbee had the best chances of being treated," she said.
"While country patients have to be transferred to Perth for major procedures such as what Mr Hawksbee had to undergo, having a competent South West team meant that he could continue his post-surgery therapy close to home," she said.
"There was great teamwork and communication between the Perth and South West team which has definitely contributed towards his recovery.
"We are pleased to be able to support Mr Hawksbee in his recovery and look forward to sharing his future victories."