Stroke rehab via telehealth is hands-down a winner for patients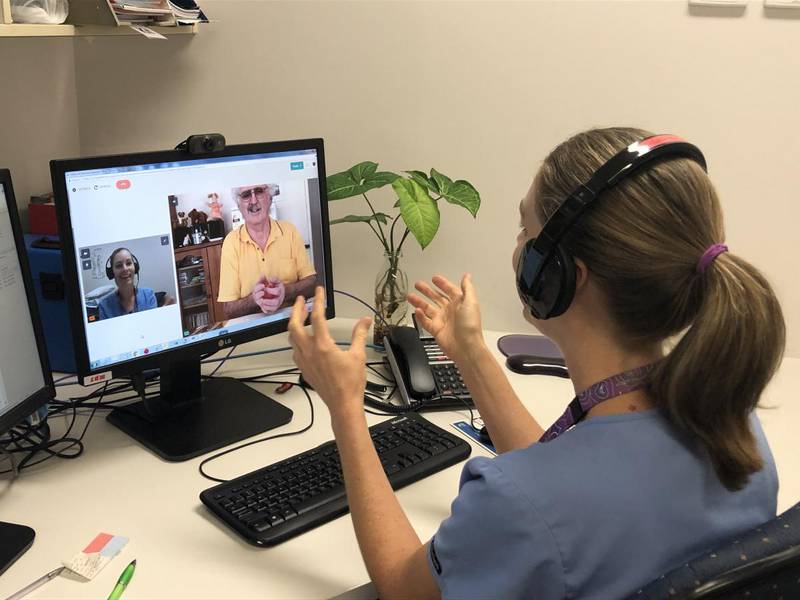 Bunbury resident David McNair and senior occupational therapist Kit Lucas in a virtual consult.
For anyone who has suffered a stroke, access to rehabilitation services can be a lifeline back to good health.
Occupational therapists are usually hands-on, but the Bunbury outpatient stroke team has recently embraced the transition to telerehab: delivering rehabilitation programs via Video Call (VC).
Their innovative approach is proving a winner, with a range of successful therapies now provided in virtual consultations to patients' homes.
Bunbury resident David McNair suffered a stroke last year and has been undertaking rehabilitation with the local team for eight months.
He now has appointments at home on his iPad, with his wife Hazel providing therapy support and occasional IT support.
David said he was really happy with the result.
"It's as good as I thought it would be, if not better," he said via VC to senior occupational therapist Kit Lucas.
"It makes you feel like you are not alone doing your therapy when you can speak with someone at the hospital."
Kit has worked in the South West for five years, primarily at Bunbury Hospital.
"We see people at a difficult and vulnerable point in their lives," Kit said.
"They are often faced with great challenges to overcome and we are invited to join them on their rehab journey. It is extremely rewarding to be able to assist them as they recover, adapt and accept their new situation."
WA Country Health Service South West stroke coordinator, Michaela Eaton said the service had proved popular with patients and health practitioners.
"Over the past two months, all of the stroke rehabilitation team, including our speech pathologist, physiotherapist, occupational therapists and therapy assistants, have moved to helping patients with therapy on VC," Michaela said.
"Once patients are on Video Call, they see it's just another option available to us. It's also easier for our practitioners to be shown areas of a patient's home and make immediate recommendations for ensuring safe practice of exercises."
The introduction of telerehab for stroke patients in the South West has the potential to improve hundreds of lives. An estimated 700 people in rural WA suffer from a new stroke every year, with regional Australians 19 per cent more likely to suffer a stroke than those living in metropolitan areas.
Other initiatives include WA's landmark Acute TeleStroke Project, which uses telehealth to speed up access for country patients to expert advice and care from stroke specialists in Perth.
In 2018, almost 48,000 patient appointments and services were delivered via telehealth in regional Western Australia.