Technology brings lymphoedema care closer to home for Esperance and Katanning patients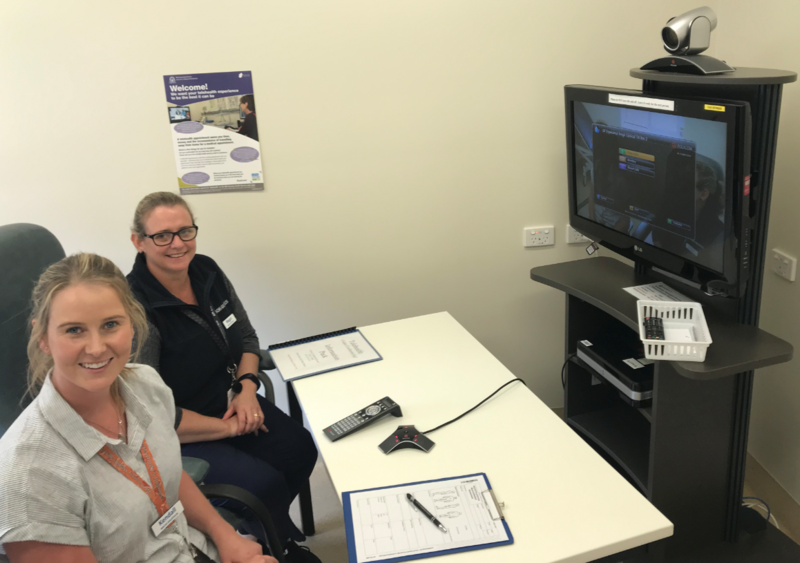 Esperance Health Campus Physiotherapists L-R: Kendall Foulds and Megan Luxton.
Esperance resident Jan Ramsden was one of the first in Australia to benefit from the WA Country Health Service and Fiona Stanley Hospital's innovative TeleLymphoedema trial which brings care closer to home for Esperance and Katanning locals fighting breast cancer.
After treatment for breast cancer Mrs Ramsden has suffered for many years with lymphoedema which causes swelling, pain and discomfort in her arm.
The trial TeleLymphoedema service has allowed Mrs Ramsden to receive specialist lymphoedema support in her home town via video conferencing technology, reducing the burden of travel.
Mrs Ramsden said when an Esperance Health Campus physiotherapist asked if she would like to participate in the WA Country Health Service's first specialist lymphoedema appointment via telehealth she felt nervous.
"The thought of receiving care from a TV screen with someone all the way over in Perth made me feel nervous but I'm so glad I did it," Mrs Ramsden said.
"I learnt new things about my condition and about different garments that I could wear to help me and by my second telehealth appointment I wasn't nervous at all, it's an amazing service.
"This trial has saved me the stress and expense of travelling to Perth that honestly, we just can't afford," she said.
The TeleLymphoedema pilot project involves a WA Country Health Service physiotherapist or occupational therapist assessing a patient at a country site with a specialist from Fiona Stanley Hospital providing supervision and education via telehealth.
"I really hope the service will continue so more breast cancer survivors like me can manage their lymphoedema in a convenient and affordable way," she added.
Initially, the pilot is being implemented at Esperance Health Campus and Katanning Health Campus with the project results being used to inform the expansion of the service to other WA Country Health Service sites.