Technology leads the way for expectant WA country women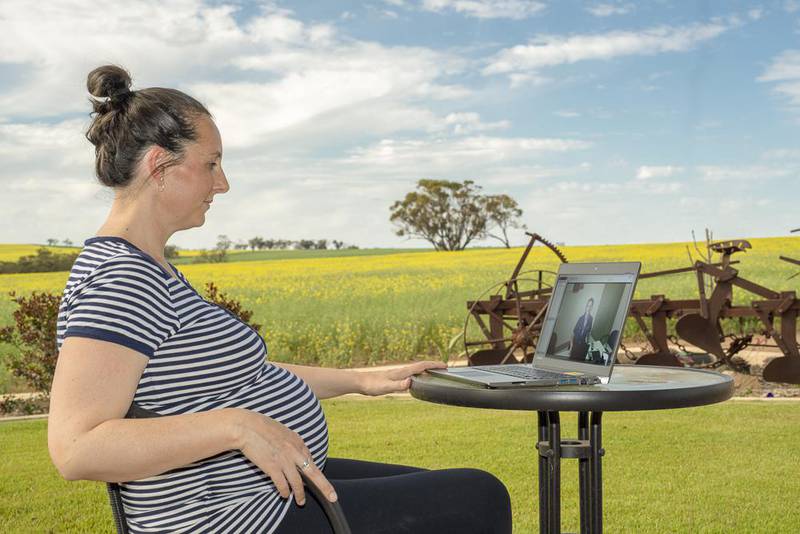 An expectant woman using the laptop
The WA Country Health Service (WACHS) this week has expanded on its successful existing telehealth antenatal classes to provide free childbirth, early parenting and breastfeeding education across all country regions for expectant women and their birth partners.
In line with social distancing recommendations, WACHS is ensuring new opportunities are available to all expectant country women and their birth partners.
This innovative service now includes the highly successful Positive Birth Program which has been running at the Bunbury Hospital since February 2019.
WACHS Acting Executive Director Nursing and Midwifery Services Steph Barrett said the Bunbury Hospital has already seen noticeable results in its first year of rolling out the program.
"There has been a reduction in the use of medications for pain relief, induction of labour, non-elective caesarean sections and instrumental deliveries, which is incredible news," Ms Barrett said.
"There are now multiple options for birth education available to country parents-to-be, such as online video sessions with a midwife which can be accessed from home, free online Lamaze learning modules and access to recorded birth education telehealth sessions.
"We are focused on empowering women and their birth partners to look forward with excitement to bringing their new baby into this world.
"I would also like to reassure expectant mums that we are doing everything in our power to protect them and their babies from COVID-19 and that when the time comes, it is absolutely safe to deliver at WA Country Health Service hospitals."
All education classes, including the Positive Birth Program, provide women and their birth partners with a deeper understanding of pregnancy and the birth process, equipping them with a range of medically proven breathing and relaxation techniques to assist during birth.
The early parenting and breastfeeding classes provide expectant parents with the tools and resources to provide their baby with the best possible start to life.
Please email WACHSbirtheducation@health.wa.gov.au to enrol or request more information. Baby Bumps WA on Facebook will also provide you with the latest updates.