TeleRehab nominated for regional stroke improvements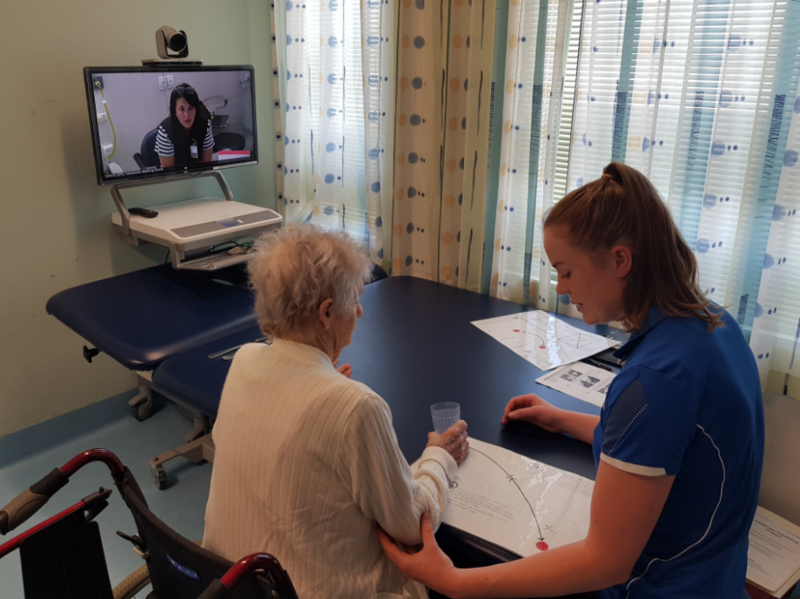 An innovative project that reduces regional patient inequities in accessing specialist stroke rehabilitation was nominated as a 2019 finalist in the WA Health Excellence Awards.
The Stroke TeleRehab Project brings high quality stroke rehabilitation closer to home for Midwest patients via a telehealth link between Geraldton Hospital and the stroke rehabilitation unit at Osborne Park Hospital (OPH).
Developed as a partnership program between North Metropolitan Health Service and WA Country Health Service, the project has reduced the number of Midwest patients having to travel to Perth for stroke rehabilitation, and reduced their length of stay in both Geraldton and metropolitan hospitals.
Working with stroke rehabilitation clinicians at Osborne Park Hospital via telehealth alongside their local treating clinician, patients at Geraldton Hospital are able to receive specialised care for their rehabilitation following a stroke.
Reducing the need to travel over 1,000 kilometres to Perth, the telehealth program reduces the financial, social and emotional pressures on patients and their families.
Patient trips to metropolitan stroke rehabilitation units have decreased from 30 per cent in 2016-17 to 8 per cent in the fifteen months after the project commenced in April 2018.
TeleRehabilitation Project Manager Ruth Warr said that the nomination highlights the importance of high quality care in regional areas.
"The project enables stroke specialist clinical advice and education, making specialised stroke rehabilitation more accessible to patients in the country.
"It has improved Midwest workforce confidence to deliver best practice stroke rehabilitation, and is being well received by the patients and carers involved," she said.
The WA Health Excellence Awards was in Perth on 7 November.
WA Country Health Service had nine finalists across eight project categories.
You can view the complete list of finalists here.