Wheatbelt Speech Pathologist awarded Australia's Rural Clinical Educator for 2019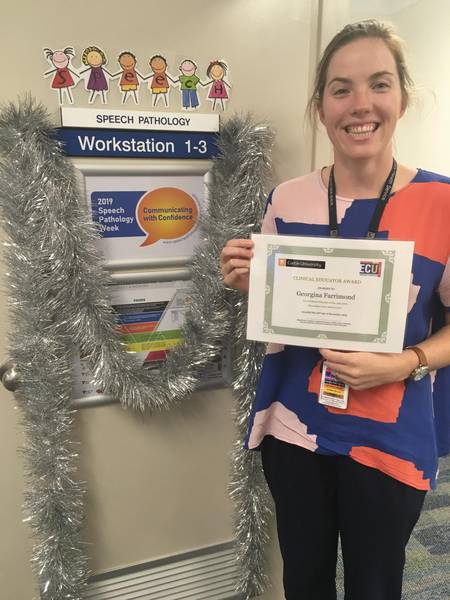 Georgina Farrimond WA Country Health Service Speech Pathologist and winner of the 2019 Rural Clinical Educator of the Year award from Speech Pathology Australia WA Branch.
WA Country Health Service Western Wheatbelt speech pathologist Georgina Farrimond was crowned Rural Clinical Educator of the year at the 2019 Speech Pathology Australia WA Branch awards night last November.
As a Rural Clinical Educator, Georgina is required to supervise speech pathology students, fostering their development in the field by allowing them to practise their clinical skills in a supportive environment under her guidance and experience.
It was her first student Holly Howard, who Georgina had overseen during Holly's paediatrics placement at the Western Wheatbelt Primary Health Service in Moora, who felt compelled to nominate Georgina for the prestigious award.
"Georgina provided outstanding support and supervision throughout my placement, she took the time to teach me many new things and expand my learning," fourth year university Speech Pathology student Holly Howard said.
"As a result of this wonderful learning experience, I feel excited, empowered and confident to apply for, and undertake a job in paediatrics, hopefully in a rural area, this year," she added.
Georgina has been working as a Speech Pathologist with Western Wheatbelt Primary Health Service for almost five years and says she finds it exciting to travel across the region providing valuable services to the community.
"My job can be quite challenging as my thoughts have to change space very quickly - from seeing patients with swallowing difficulties to speech sound difficulties to language difficulties, in people of all ages, and then having to adapt evidence to what would work for families in all of these areas," she said.
"The most rewarding parts of my job are working with children and their families to help them achieve their goals and nurturing the development of future Speech Pathologists.
"I feel honoured to have been recognised by the Speech Pathology Australia WA Branch for my education efforts," she added.