Population Health team in running for major health award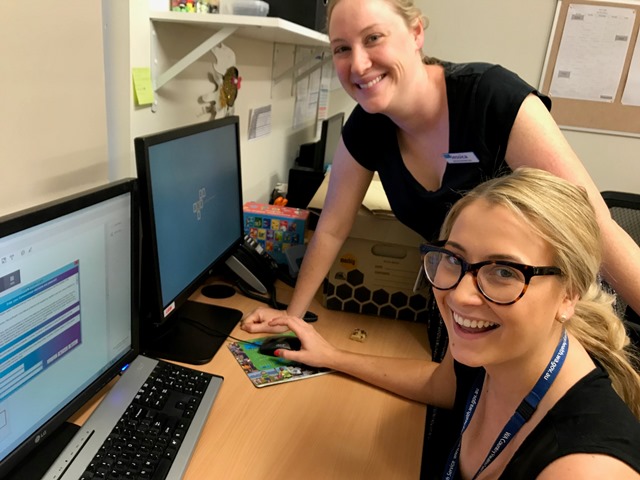 Speech pathologists, Jessica Boam and Brittany Bates.
An electronic tool designed to boost community health outcomes in rural WA was selected as a finalist in the 2019 WA Health Excellence Awards.
The Community Health Information System (CHIS) provides a single, standardised electronic health record to support the management and delivery of 178 community-based services across country health.
With more than 1,500 users across the State, the system has significantly improved the sharing of clinical information and was a finalist in Category 1: Managing Resources Efficiently and Effectively.
Acting Executive Director Health Programs Karine Miller, said the nomination was credit to the hard work of the implementation team which first identified a need for a WACHS-wide health information system five years ago.
"The main focus of CHIS is to continue to improve population health outcomes and the overall client experience," Karine said.
WA Country Health Service (WACHS) is the largest country health system in Australia, providing comprehensive health services to more than 530,000 people.
Our services span more than 2.5 million square kilometres from Kalumburu in the Kimberley to Albany in the Great Southern.
"These vast distances and the diverse needs of communities in rural and remote WA create unique challenges for healthcare service delivery," said Karine.
"Digital innovation is the key to overcoming these challenges. CHIS supports the care of our most vulnerable and transient clients, with one unique record providing all their clinical information, reducing duplication and the need for paper-based files."
CHIS has enabled the organisation to standardise and transform service delivery as well as existing local, regional and WACHS-wide processes.
A key element is the unique medical record number which helps clinicians identify, treat and manage patients, regardless of their location or where services have previously been provided.
The Community Health Information System was one of nine WACHS finalists across six categories of the awards, which celebrated and acknowledge outstanding achievements in the public health sector.
The WA Health Excellence Awards was in Perth on 7 November.
WA Country Health Service had nine finalists across eight project categories.
You can view the complete list of finalists here.