Telehealth works for regional kid's ear health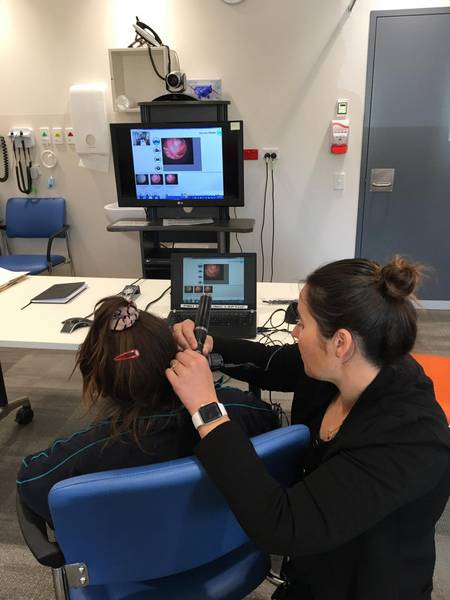 Performing digital otscopy.
Linking regional children with Perth-based specialists via telehealth has provided an essential service to more than 50 children since February 2017.
Telehealth takes a contemporary approach to providing health care to rural communities, by offering appointments with specialists via video conference.
Monthly Healthy Country Kids Ear Health clinics provide children with access to doctors at Perth Children's Hospital (PCH) without needing to travel to Perth.
Each month the WA Country Health Service's Eastern Wheatbelt Primary Health team works with Ear, Nose and Throat (ENT) specialists at PCH to provide the best outcomes for regionally-based children. Doctors are able to assess children and provide further care for those Wheatbelt children requiring surgery.
The free service supports families who are concerned about their children's ear health, including Otitis Media (middle ear infections), which can begin within weeks of birth and recur throughout childhood, adolescence and adulthood.
Untreated middle ear infections can lead to hearing loss, impacting on development and cause learning delays. The Healthy Country Kids Ear Health clinic screens, treats and provides advice of self-management to prevent future infections.
WA Country Health Service's Eastern Wheatbelt Primary Health Service Community Health Nurse Rebecca Waye says that the service demonstrates how telehealth benefits care of regional patients.
"Since the introduction of the Healthy Country Kids Ear Health Clinic, we have seen more than 50 children who would have had to travel to Perth to access ear, nose and throat specialists in Perth.
"Connecting with Perth Children's Hospital doctors each month benefits both regional kids and local communities, by giving greater access to a service that they would not otherwise have locally and reducing possible future complications with their ear health.
"The program has also led to increased awareness of the importance in ear health of kids. Through early identification of ear health issues, we are reducing what could be a long-term health concern for Wheatbelt children."
For more information about the Healthy Country Kids Ear Health clinic please contact Eastern Wheatbelt Primary Health Service on 9081 3222.