Albany midwives give school students an insight into childbirth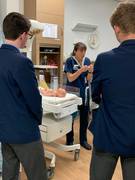 Albany midwife, Jo Orr, demonstrates a birth to local high school students.
The maternity ward at Albany Health Campus recently welcomed high school students for a practical science lesson as part of their studies into human reproduction.
Clinical Nurse Manager Natasha Jeppesen said the students' visits were an opportunity to not only give practical insight into childbirth but also highlight the specialised discipline of midwifery as a potential career path.
"The tour was really well received by students and the maternity ward staff were more than happy to share their knowledge and experiences," Ms Jeppesen said.
"We were able to take the students through a birthing suite and explain the whole birthing process, including a practical demonstration of how a baby is delivered using a model of a female torso with a dummy baby.
"It was great to witness the amazement of students experiencing something that we live day in and day out.
"One group of students were lucky enough to have an expectant mother volunteer to allow them to see her baby, 18-weeks in gestation, via ultrasound and listen to the heartbeat.
"It is certainly not something that could be taught in a classroom," she added.
Albany Health Campus maternity ward has 39 midwives delivering pre and post-natal care and more than 500 births per year.
Three local school groups have visited the maternity ward this year.