Broome doctor recognised for commitment to educating others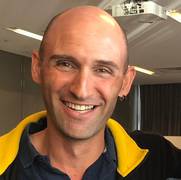 Broome ED district medical officer Dr David Forster has been honoured for his commitment to mentoring and teaching junior doctors.
David was named Western Australian Clinical Educator of the Year 2019 by the Postgraduate Medical Council of Western Australia, the professional group that provides leadership and support for early postgraduate medical education and training.
The award recognises David's work in Broome Hospital over the past nine years as a passionate and devoted supervisor and teacher.
David has focused his 20+year medical career on rural and remote practice. During his internship and residency at Canberra Hospital, David spent time in the Katherine Aboriginal Medical Service in the Northern Territory.
He later moved west to Karratha and then Port Hedland with his family, where his love for remote medicine really took off.
"Working in Broome Hospital since 2010 has been the highlight of my career. I feel incredibly lucky to work with highly skilled and knowledgeable colleagues who are modest, caring and great friends," David said.
"The team of nurses, junior medical officers, support services, allied health, management, specialist rural generalists, physicians and surgeons work collaboratively in a way that puts our patients first.
"The work in often highly challenging and requires a multi-skilled team – this is one of my favourite aspects."
David's journey as an educator began as part of a team of two doctors and nurses, with simulation training – this is when staff are put through their paces with authentic medical scenarios to hone their skills and processes in the event of a real situation happening.
His involvement with education gradually expanded and he now runs training across the region with WACHS Kimberley staff and other health service providers. Two years ago he began an annual simulation road trip to Derby, Fitzroy Crossing, Halls Creek and Kununurra and last year was joined by Dr Yehuda Levy, allowing them to provide free, hands-on, relevant training to teams in remote hospitals.
David said he would highly recommend junior doctors head to the Kimberley for work.
"It could be your best decision yet. Training in Broome can only advance your career, giving you opportunities that are often only given to registrars and consultants in tertiary centres," he said.
"As the hub hospital of the Kimberley, we care for a wide range of chronic health issues to critically unwell adults and children, with our referral centre being 2500km away.
"This challenge allows us to grow through experiences and training, and I firmly believe the team's capabilities are again second to none.
"On the personal side, my three children all go to school in Broome, and the lifestyle and opportunities for them are fantastic."
David is now in the running to be named Australian Clinical Educator of the Year at the national awards to be presented in late October. Find out more about the Postgraduate Medical Council of Western Australia here.