Queen of the Kimberley stars in new telehealth campaign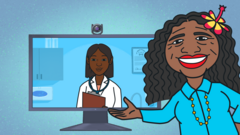 Mary G is the star of a new campaign to raise awareness of telehealth.
Self-appointed Queen of the Kimberley, Mary G, is the star of a new campaign being launched during Telehealth Awareness Week to increase awareness of the service across regional Aboriginal communities.
Well-known in regional Western Australia and described as Dame Edna in thongs, Mary G has been the face of many social and health campaigns over the years. Her creator, Kimberley comedian, musician and radio announcer Mark Bin Bakar worked with the WA Country Health Service (WACHS) to develop a culturally appropriate animated telehealth awareness video.
WACHS is celebrating Telehealth Awareness Week (25 – 31 October 2019), which shines the spotlight on how digital technology is helping country people access specialist and multi-disciplinary care closer to home.
WACHS established a working group to develop the animated video and supporting resources, including representatives from the Aboriginal Health Council of WA (AHCWA), WACHS Aboriginal Health and Aboriginal Community Controlled Health Services (ACCHS).
The result is a colourful, animated video with a clear message from Mary G: speak to your local health mob to see if a telehealth appointment is right for you.
WACHS Executive Director of Innovation and Development Robyn Sermon said Aboriginal patients represented about 13 per cent of total telehealth activity in WA.
"There is considerable scope to increase this number through building awareness of telehealth within Aboriginal communities," Ms Sermon said.
"Our stakeholders told us Mary G would be the ideal character to reinforce the message that people who have to travel a long way from country for follow-up care with specialists and other health professionals should ask about telehealth, to see if they can have their appointment closer to home," she added.
Ms Sermon said telehealth benefits tens of thousands of patients across country WA every year and is making a real difference to regional people.
"Telehealth enables access to a wide range of health services that are readily available in the city, to people living in rural and remote WA," she said.
"The WA Country Health Service is a global leader in the provision of digitally enabled health services and the use of telehealth continues to benefit regional residents by reducing the need for travel, saving valuable time away from family and giving access to some of the best specialists in the State," she added.
In WA, telehealth technology delivers a range of services including specialist emergency support to staff in country hospitals treating acute emergency patients, including those presenting with mental health concerns; inpatient consults through a virtual ward round; outpatient consults with specialists, as well as training and education for health staff and consumers.
People can check with their health professional to see if a telehealth appointment is appropriate for them.
The Mary G Telehealth campaign launches across regional WA today on social media. The video will also show in 19 Aboriginal community controlled health service waiting rooms across the State on Aboriginal Health TV.
Check out the video here or search Mary G Telehealth on the web.
To find out more about telehealth visit the Healthy WA website.