Telehealth allows country mums-to-be to attend maternity classes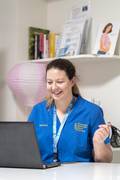 Clinical Midwife, Holly Jones delivers childbirth and parenting classes via telehealth.
Childbirth and parenting classes delivered by telehealth are empowering country women, providing them with knowledge and the chance to discuss their parenting queries.
This week is Telehealth Awareness Week (25 – 31 October 2019), shining the spotlight on how digital technology is helping country people access specialist and multi-disciplinary care closer to home. The Wheatbelt Midwifery Group Practice has been using telehealth technology to deliver childbirth and parenting classes right across Western Australia.
Clinical Midwife, Holly Jones has been delivering the four-part series of classes to expectant parents with the next series commencing Friday 1 November.
"This service isn't just for parents in the Wheatbelt, telehealth allows us to provide education and support to mums everywhere, all they need is a phone, tablet or computer," Ms Jones said.
"I've had participants dial in from all over WA, particularly in remote locations like Derby, Halls Creek and Newman and in some instances, where internet connection is a challenge, they've dialled into the sessions from their nearest health service.
"The sessions are open to anyone who's expecting a baby and interested in learning more - mums, dads, partners and any support people are welcome, we often have both parents sit in on a session.
"We cover all the topics you'd expect from classes at a large metro hospital but also have the flexibility to tailor it to those in attendance who often ask specific questions related to their unique situation," she said.
"I get lots of positive feedback from the pregnant women who often express how empowered they feel by attending the classes, having the opportunity to ask questions and being prepared with the information they need to make decisions," Ms Jones added.
WA Country Health Service Executive Director Robyn Sermon said telehealth benefits tens of thousands of patients across country WA every year and is making a real difference to regional people.
"Telehealth enables access to a wide range of health services that are readily available in the city, to people living in rural and remote WA," Ms Sermon said.
"WA Country Health Service is a global leader in the provision of digitally enabled health services and the use of telehealth continues to benefit regional residents by reducing the need for travel, saving valuable time away from family and giving access to some of the best specialists in the state."
In Western Australia, telehealth technology delivers a range of services including specialist emergency support to staff in country hospitals treating acute emergency patients, including those presenting with mental health concerns; inpatient consults through a virtual ward round; outpatient consults with specialists, as well as training and education for health staff and consumers.
People can check with their health professional to see if a telehealth appointment is appropriate for them. To find out more about telehealth visit the Healthy WA website.
The next four-part series of childbirth and parenting classes via telehealth start on Friday 1 November. To book or find out more, email sihi.childbirtheducation@health.wa.gov.au.