Telehealth allows south west cancer patients to receive treatment closer to home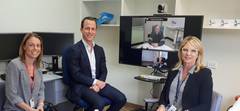 Telehealth Coordinator Renae Seaward (left), Haematologist Dr Dustin Hall (centre) and Cancer Nurse Coordinator, Jacqui Macnish (right) with a telehealth patient (on-screen).
A dedicated service for South West blood cancer patients, using telehealth is reducing the need for long, uncomfortable trips to Perth.
This week is Telehealth Awareness Week (25 – 31 October 2019), shining the spotlight on how digital technology is helping country people access specialist and multi-disciplinary care closer to home.
Cancer Nurse Coordinator, Jacqui Macnish said visiting haematologists from Perth provide the dedicated outpatient clinics from Bunbury Hospital with the option for patients to be seen either face-to-face or by telehealth.
"Patients diagnosed with a blood cancer often have many months, if not years, of treatment and patients in the South West can travel three to four hours each way for a twenty minute appointment.
"When you add that up over the years, this local service strongly supported by telehealth saves our patients so much time away from home, work and their families" Ms Macnish said.
"The patient feedback for this service has been very positive," she added.
This initiative aims to increase survival and improve the quality of life for country people diagnosed with cancer.
WA Country Health Service Executive Director Robyn Sermon said telehealth benefits tens of thousands of patients across country WA every year and is making a real difference to regional people.
"Telehealth enables access to a wide range of health services that are readily available in the city, to people living in rural and remote WA," Ms Sermon said.
"WA Country Health Service is a global leader in the provision of digitally enabled health services and the use of telehealth continues to benefit regional residents by reducing the need for travel, saving valuable time away from family and giving access to some of the best specialists in the state."
In Western Australia, telehealth technology delivers a range of services including specialist emergency support to staff in country hospitals treating acute emergency patients, including those presenting with mental health concerns; inpatient consults through a virtual ward round; outpatient consults with specialists, as well as training and education for health staff and consumers.
People can check with their health professional to see if a telehealth appointment is appropriate for them.
To find out more about telehealth visit the Healthy WA website.