Telehealth helps Mt Magnet resident stay closer to home after stroke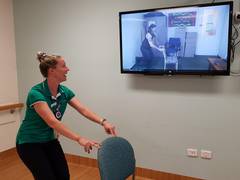 Paul Hinds receives treatment via telehealth from physiotherapist Naomi Ramsay.
Mount Magnet resident Paul Hinds has experienced firsthand the benefits of telehealth, which played a major part in his rehabilitation following hospitalisation for a stroke.
This week is Telehealth Awareness Week (25 – 31 October 2019), shining the spotlight on how digital technology is helping country people access specialist and multi-disciplinary care closer to home.
"I was in hospital in Geraldton for about a month and they didn't want me to go home but I have animals to look after, including a kangaroo, so I wanted to get home to look after them," Mr Hinds said.
"The only reason they discharged me was because of telehealth, I could attend my twice weekly physio appointments at Mount Magnet nursing post using videoconference with my physio at Geraldton Hospital," he added.
Mount Magnet is 342 kilometres from Geraldton so without telehealth as a way of receiving his rehabilitation treatment locally, Mr Hinds would have had to stay in Geraldton or travel the seven to eight hour roundtrip twice a week to receive the same care.
"There were lots of benefits to using telehealth; financial, being home to look after my animals and it is just more comfortable at home; I believe it helped me recover quicker than if I'd been in hospital," Mr Hinds said.
"I was impressed with the whole experience, having a one-on-one appointment with the same physio really helped with my recovery.
"More people in the bush need to know that telehealth is available."
WA Country Health Service Executive Director Robyn Sermon said telehealth benefits tens of thousands of patients across country WA every year and is making a real difference to regional people.
"Telehealth enables access to a wide range of health services that are readily available in the city, to people living in rural and remote WA," Ms Sermon said.
"WA Country Health Service is a global leader in the provision of digitally enabled health services and the use of telehealth continues to benefit regional residents by reducing the need for travel, saving valuable time away from family and giving access to some of the best specialists in the state."
In Western Australia, telehealth technology delivers a range of services including specialist emergency support to staff in country hospitals treating acute emergency patients, including those presenting with mental health concerns; inpatient consults through a virtual ward round; outpatient consults with specialists, as well as training and education for health staff and consumers.
People can check with their health professional to see if a telehealth appointment is appropriate for them. To find out more about telehealth visit the Healthy WA website.