Telehealth saves Boulder resident thousands of kilometres in travel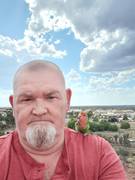 Boulder resident, Michael Doyle attends regular outpatient appointments via telehealth.
Boulder resident Michael Doyle reckons he's saved about 5000 kilometres in travel and more than three weeks away from home thanks to telehealth.
This week is Telehealth Awareness Week (25 – 31 October 2019), shining the spotlight on how digital technology is helping country people access specialist and multi-disciplinary care closer to home. Mr Doyle attends Kalgoorlie Health Campus for telehealth outpatient appointments via video link to specialists in Perth.
"Instead of driving 1,200 kilometres plus, finding accommodation and incurring all the other costs with a trip to Perth, I go to my local hospital, sit in an air-conditioned room and talk to familiar faces who work at the hospital until my link up is ready," Mr Doyle said.
"I don't travel well because of my illness so it is always a three or four day trip, added to that the expense of accommodation and meals.
"The consultation takes minutes, but telehealth saves me so much time and inconvenience.
"I've had four telehealth appointments in the last year, that's nearly 5,000 kilometres and more than three weeks away I've saved," Mr Doyle added.
"I've really noticed an increased use of telehealth. I think that's great and would like to see it be used more."
WA Country Health Service Executive Director Robyn Sermon said telehealth benefits tens of thousands of patients across country WA every year and is making a real difference to regional people.
"Telehealth enables access to a wide range of health services that are readily available in the city, to people living in rural and remote WA," Ms Sermon said.
"WA Country Health Service is a global leader in the provision of digitally enabled health services and the use of telehealth continues to benefit regional residents by reducing the need for travel, saving valuable time away from family and giving access to some of the best specialists in the state."
In Western Australia, telehealth technology delivers a range of services including specialist emergency support to staff in country hospitals treating acute emergency patients, including those presenting with mental health concerns; inpatient consults through a virtual ward round; outpatient consults with specialists, as well as training and education for health staff and consumers.
People can check with their health professional to see if a telehealth appointment is appropriate for them. To find out more about telehealth visit the Healthy WA website.