Telehealth technology allows Great Southern doctors to treat patients all over WA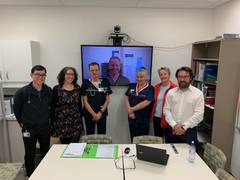 From left: Dr James Teh, Dr Amanda Villis , Dr Brian Cunningham, Dr Damien Zilm (onscreen), Emergency Nurse Practitioners Ronnie Taylor and Sonia Thurect and Dr Justin Yeung provide specialist clinical advice state-wide via telehealth technology.
The Great Southern boasts the largest number of clinicians participating in the State's first 'virtual' clinical hub, providing specialist support to doctors and nurses in emergency departments and hospitals across country WA.
Thanks to innovative technology, ten local clinicians are part of the team of specialist clinicians available from the WA Country Health Service's Command Centre, based in Perth.
This week is Telehealth Awareness Week (25 – 31 October 2019), shining the spotlight on how digital technology is helping country people access specialist and multi-disciplinary care closer to home.
The Command Centre is a virtual clinical hub that brings together new and existing services, enabled through telehealth technology, to support front-line clinicians caring for patients in regional WA. The Command Centre provides rural and remote doctors and nurses with 24/7 access to a dedicated team of clinical specialists, including those based in the Great Southern.
Dr Justin Yeung, Medical Director of the WA Country Health Service Command Centre, who splits his time between the Command Centre based at Royal Perth Hospital and his hometown of Albany, is one of ten local clinicians providing consults via telehealth across all of Western Australia.
Dr Yeung praised the telehealth model and attributed the innovative technology as a major contributor to the ongoing system-wide change improving healthcare outcomes for patients in country WA.
"Being able to interact and network remotely with patients, consumer representatives, country community and hospital-based clinicians, as well as Perth and interstate colleagues builds on and adds value to what is already a great foundation," Dr Yeung said
"I'm proud to be part of the team delivering Emergency Telehealth and Inpatient Telehealth Services across the state from here in the Great Southern."
WA Country Health Service Executive Director Robyn Sermon said telehealth benefits tens of thousands of patients across country WA every year and is making a real difference to regional people.
"Telehealth enables access to a wide range of health services that are readily available in the city, to people living in rural and remote WA," Ms Sermon said.
"WA Country Health Service is a global leader in the provision of digitally enabled health services and the use of telehealth continues to benefit regional residents by reducing the need for travel, saving valuable time away from family and giving access to some of the best specialists in the State."
In Western Australia, telehealth technology delivers a range of services including specialist emergency support to staff in country hospitals treating acute emergency patients, including those presenting with mental health concerns; inpatient consults through a virtual ward round; outpatient consults with specialists, as well as training and education for health staff and consumers.
People can check with their health professional to see if a telehealth appointment is appropriate for them. To find out more about telehealth visit the Healthy WA website.