Community gets hands on with artwork for new Onslow health campus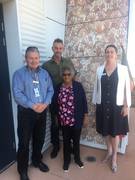 (L-R) WACHS Chief Executive Jeff Moffet, artist Simon Gilby, Thalanyji Elder, Anne Hayes and Pilbara Regional Director Margi Faulkner
The incredible artwork at the brand new Onslow Health Campus was the talk of the town at the official opening on 31 August 2019.
Minister for Health the Honourable Roger Cook MLA joined staff, patients, community members and funding partners to celebrate the new facility which has been operational since December 2018.
The hospital and healthcare hub, which provides regular clinics to the local Onslow community for important health services, has already seen more than 1,200 emergency department presentations.
Perth artist Simon Gilby was commissioned through the State Government's Percent for Art Scheme, artist-in-residence program to engage with the local community to develop artwork which told the stories of Onslow and the people who live there.
Mr Gilby held a series of workshops with the community over eight weeks to produce a number of artworks for the external façades of the building. The project included collecting individual hand prints from community members which were then cast in soil, photographed and printed onto a unique mural, now featured on the external walls of the hospital.
Mr Gilby said he drew from the idea of local community and identity when creating the artwork.
"Images were created by the community members placing their hands lightly on the sand while a sprinkling of salt dusted onto each hand to create a stencil. The individual stencils were photographed and recorded with the community members' name, Mr Gilby said.
"All community members, from children to the elderly were encouraged to contribute to collecting hand prints," he added.
Thalanyji Elder, Anne Hayes who delivered a Welcome to Country at the opening event, is one of more than 100 community members whose handprints make up the art. Ms Hayes also has a number of pieces of art displayed on the walls in the health campus.
A book has been produced which lists all community members who contributed their hand prints. Copies of the book are available at the Onslow Health Campus reception.