Kimberley mental health initiative wins Australasian award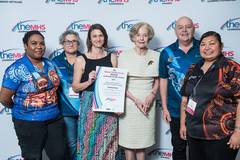 WA Country Health Service's Kimberley Mental Health and Drug Service team with mental health advocate Quentin Bryce.
An innovative program that brought Fitzroy Crossing young people and Elders together and resulted in a hip hop song about suicide prevention has won a top Australasian mental health award.
The WA Country Health Service-led Standing Strong program won an award in the category of Mental Health Promotion or Mental Illness Prevention at the annual Mental Health Service Awards of Australia and New Zealand.
Developed, written and recorded in Fitzroy Crossing, the Standing Strong project was a partnership between WA Country Health Service's Kimberley Mental Health and Drug Service and the Nindilingarri Cultural Health Services.
Young people between the ages of 10 and 17 worked with the Indigenous Hip Hop Project team to develop a song using their own words and ideas about mental health, alcohol and drug issues.
Elders from five local language groups also shared their stories about the importance of language, culture and talking to family and friends to build strong connections and emotional wellbeing.
The song 'Standing Strong' uses elements of local Aboriginal culture fused with hip hop, rap and beat-boxing. The video was shot in Fitzroy Crossing and features local young people singing and dancing.
The comprehensive program also included postcards with emergency contacts, calendars and a series of posters featuring local Elders and the wise words they shared at the workshops.
WA Country Health Service regional director Kimberley, Bec Smith, congratulated her team and said that Standing Strong had achieved significant results in the community.
"In the time since the program was run until June this year, more than half of young people aged 10-17 in the Fitzroy Valley area reporting using an alternative to drugs and alcohol during times of stress," Ms Smith said.
"There have also been improvements in young people seeking help from mental health services.
"Suicide prevention is one of the most important issues facing Kimberley communities and I'm pleased that this initiative, led by Fitzroy's own elders and young people, is making a difference."
The award was announced on 28August 2019 at the annual The Mental Health Services Conference held in Brisbane, Queensland.