Local ED expert helps guide launch of new Urgent Care Clinics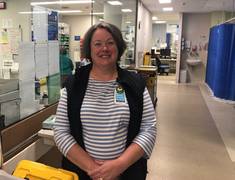 Dr Karen McKenna from the Bunbury Hospital ED, who has been closely involved in the development of the new Urgent Care Clinics.
A local doctor in Bunbury Hospital's Emergency Department (ED) has been closely involved in the development of the new GP Urgent Care Clinic pilot program launched by the State Government this week.
Dr Karen McKenna is an Emergency Medicine Consultant who splits her time between city and country life with a part time role in the Bunbury ED and a number of other health roles in the metropolitan area.
She said her mixed bag of work is advantageous in building connections between Bunbury Hospital and the Department of Health. The GP Urgent Care Clinic project was a great example of this.
Dr McKenna said the five GP Urgent Care Clinics across the Greater Bunbury region were the culmination of 18 months of hard work and collaboration between the Department of Health and the Western Australia Primary Health Alliance (WAPHA). They form part of a network of over 120 practices participating in the trial.
The new GP Urgent Care pilot program public awareness campaign entitled "Not all urgencies are emergencies" will help people locate GP Urgent Care in their community and closer to home.
"Patients in the South West will be offered more choice when it comes to seeking same day health care, allowing some to avoid an unnecessary visit to an emergency department even if their regular GP is not available that day," she said.
"It has been exciting to see a new model of care being developed and to work with people from a variety of health organisations such as WAPHA," said Dr McKenna.
In addition to these roles Dr McKenna is also a board member of the WA Faculty of the Australasian College for Emergency Medicine.
Operations Manager at Bunbury Hospital Glen Matters said the Urgent Care Clinics were designed to benefit patients by reducing wait times in the ED.
"The Urgent Care Clinics are an important new option our patients can now consider, for non-life threatening injury and illness, rather than visiting the ED which they may have done in the past," said Mr Matters.
To book a GP Urgent Care clinic appointment visit http://gpurgentcare.com.au or call HealthDirect on 1800 022 222.