New surgical services unit opens at Northam Health Service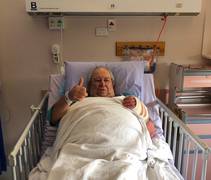 Phil Gurney of Beverley, the first patient to be treated at the Northam's new surgical services unit.
The Northam Health Service redevelopment continues to progress with the opening of the first stage of a new surgical services unit.
WA Country Health Service Regional Director Sean Conlan said the unit, which includes two new operating rooms and sterilising services was the latest addition to the $42 million redevelopment of the Northam Health Service.
The second stage of the work within the surgical services unit is scheduled to be completed later this year and will include the reception and waiting area, change rooms and staff offices.
"This is part of a raft of improvements to the hospital which are all benefiting the residents of our local and surrounding communities by allowing them to receive first class care closer to home," Mr Conlan said.
Other recently completed areas include the new Emergency Department and a new Ambulatory Care building that provides access to community health services including physiotherapy, speech therapy, occupational therapy, counselling, community health nursing, community mental health and aged care support.
Cancer services will receive a boost with a new chemotherapy centre being redeveloped as part of a Commonwealth government funded program.
Construction of a new satellite renal service is also well advanced. The renal service is funded by the State government as part of WA Country Health Service's capital works program improving hospital infrastructure.
The WA Country Health Service is currently overseeing the biggest transformation of country hospitals and health facilities in more than a generation valued at $1.5 billion over 10 years.
Along with new bricks and mortar comes the installation of state-of-the-art information and communications technology, including telehealth links and videoconferencing to facilitate services such as the emergency telehealth service and more options for access to specialists.