Prevalence of trauma in country WA the focus of mental health conference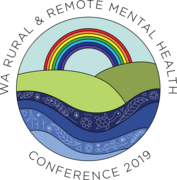 This year's Rural and Remote Mental Health Conference hosted by the WA Country Health Service aims to improve the mental health of country Western Australians, with a particular focus on Aboriginal and Torres Strait Islander people who are hospitalised for mental health issues at nearly twice the rate of other Australians.
The biennial conference will be held in Albany this year from 16 – 18 October and will once again bring together some outstanding speakers and researchers in rural and remote mental health.
The Great Southern Mental Health Service team has chosen the theme 'Moorditjabiny', Noongar for 'becoming stronger', to highlight their focus on understanding, responding and aiding the recovery of people who have experienced trauma.
Great Southern Mental Health Service Manager Matthew Wells said the team was looking forward to hosting mental health professionals, carers and consumers in Albany to shed more light on trauma.
"Sadly, exposure to trauma is common - up to three quarters of the world's population is likely to experience a traumatic event during their lifetime," Mr Wells said.
"Some traumatic experiences are one offs, like a car accident, but others such as bullying, childhood sexual abuse and domestic violence, can happen repeatedly over a long period of time and may lead to Post Traumatic Stress Disorder," he added.
Mr Wells said somewhere between five and ten per cent of the population would develop Post Traumatic Stress Disorder at some point and require specialist intervention.
"The Rural and Remote Mental Health Conference explores the many facets of the trauma experience, representing the full range of voices needed to understand the spectrum and experience of trauma.
"The conference will include professional and first-hand accounts of adversity and recovery, with a significant emphasis on the experience of Aboriginal people," he said.
The aim of Moorditjabiny is for attendees to take home new and applied understandings of trauma that will promote recovery in country people.
More information can be found on the conference website www.rrmhc2019wa.com.au.