Coastal towns named WA's most improved for immunisations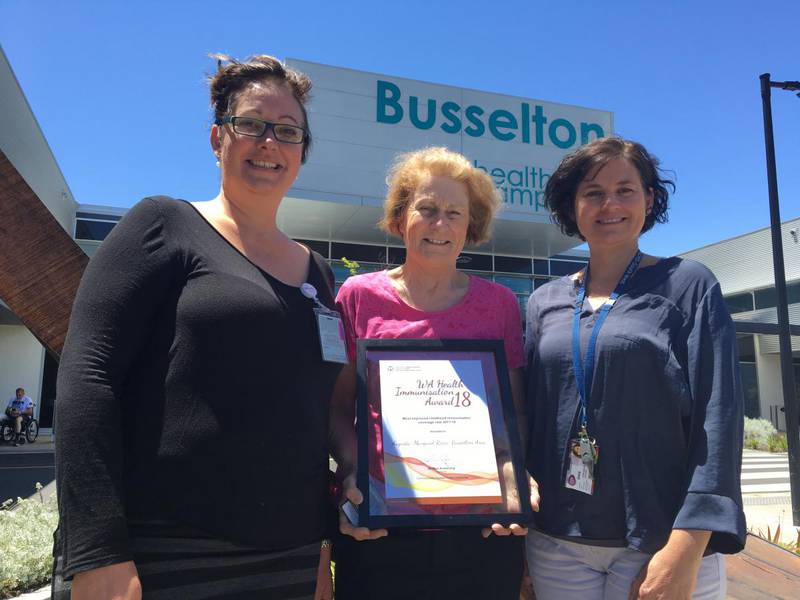 (Left-right) Maree Deimel (Child Health Nurse), Jenny Jurat (Immunisation Coordinator, Naturaliste) and Donna Guthridge (Nurse Manager – Community Health, Naturaliste), celebrating their win.
The WA Country Health Service's Nancy Birch is praising the communities of Augusta, Margaret River and Busselton after they were named as having Western Australia's most improved immunisation rates for 2017/18.
Declared at the Annual Public Health Nurse update in late November, Ms Birch – the region's Immunisation Coordinator - said the improvement was a result of hard work and collaboration between the WA Country Health Service and local GPs.
"We're delighted to see the uptake in vaccination rates – particularly in communities where there had previously been some resistance," Ms Birch said.
"I must also acknowledge all immunisation providers – including our local GPs – for all that they do in spreading the message of prevention," she added.
Ms Birch said recommended vaccines as per the Western Australian Immunisation Schedule were vital in not only preventing disease but providing protection to the broader community.
"The fact of the matter is: immunisation saves lives," she said. "It protects you, your family and your community. And it also helps protect future generations by eradicating diseases," she added.