Esperance named state's best for immunisations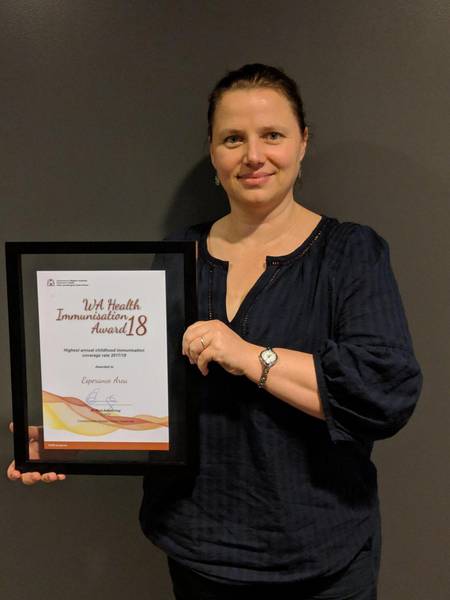 Regional Immunisation Coordinator Rebecca Caporn accepts the award for highest annual childhood immunisation rates.
The WA Country Health Service's Rebecca Caporn is praising the Esperance community after the town was named as having the highest annual childhood immunisation coverage rates for 2017/18.
Declared at the Annual Public Health Nurse update in late November, Ms Caporn said the title meant Esperance was home to the highest percentage of immunised children under five across the entire state.
"This is a huge achievement and a testament to local parents and guardians who have opted to ensure their children are protected against serious diseases," Ms Caporn said.
"I must also acknowledge all immunisation providers – including the WA Country Health Service and local GPs - for all that they do in spreading the message of prevention," she added.
Ms Caporn said recommended vaccines as per the Western Australian Immunisation Schedule were vital in not only preventing disease but providing protection to the broader community.
"The fact of the matter is: immunisation saves lives," she said.
"It protects you, your family and your community. And it also helps protect future generations by eradicating diseases," she added.