First patients welcomed to new Karratha Health Campus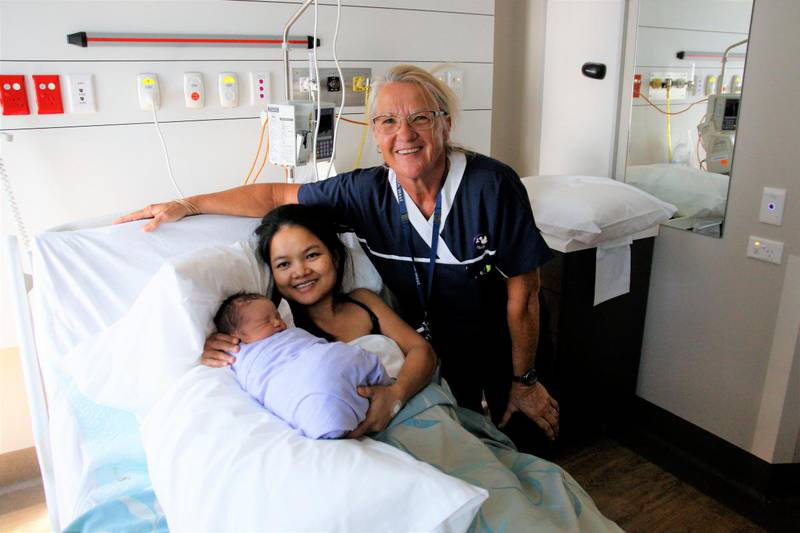 First baby born at Karratha Health Campus Nicholas Augustat, mum Wanwasa and midwife Heidi Wieland
The new $207.15 million Karratha Health Campus is now open with all patients transferred and settled into the new facility.
By 9.40am yesterday six patients had been moved from Nickol Bay Hospital to the new Karratha Health Campus.
WA Country Health Service (WACHS) Pilbara Regional Director Margi Faulkner said she was very pleased with how the move had been carried out.
"While the transition of services has been an extremely busy and demanding time for our staff, it has also been an overwhelming success," Ms Faulkner said.
"Moving a busy, working hospital is a massive task and our main focus was on patient safety.
"I'm pleased to say that the move to our new facility was completely uneventful, which is exactly what we wanted and that is all credit to our staff," she added.
Ms Faulkner said the list of firsts at the new campus began almost immediately.
"We had the first patient arrive at the new emergency department, our first surgery has been completed and just after 7pm our first baby was delivered," she said.
Acting Clinical Nurse Manager Mark Griffiths said the opening of the new emergency department had also gone off without a hitch.
"Nickol Bay Hospital closed its emergency department at 8am on Wednesday September 19 at the same time as the new facility opened its doors," Mr Griffiths said.
"Our first patient walked into the new Karratha Health Campus emergency department at 9.05am.
"By 10am we had eight patients through the new emergency department and it was business as normal," he added.
Monica Seth, Karratha Health Campus Transition Lead, said staff were pleased to be working from such a fantastic new facility.
"Getting a new hospital up and running isn't as simple as just opening its doors," Ms Seth said.
"It's a huge operation - years in the making - but today we can see the end goal was absolutely worth it.
"We're thrilled with how smoothly the transition has gone and that is all credit to our staff.
"This is the start of a new era in healthcare in Karratha," she added.
Patient Shane Edwards was transferred on Wednesday morning from Nickol Bay Hospital and said the staff did an outstanding job.
"All the staff were amazing," Mr Edwards said.
"They organised everything so I didn't have to worry about a thing - I'm very impressed with this new building," he added.