New entry opens at Narrogin Health Service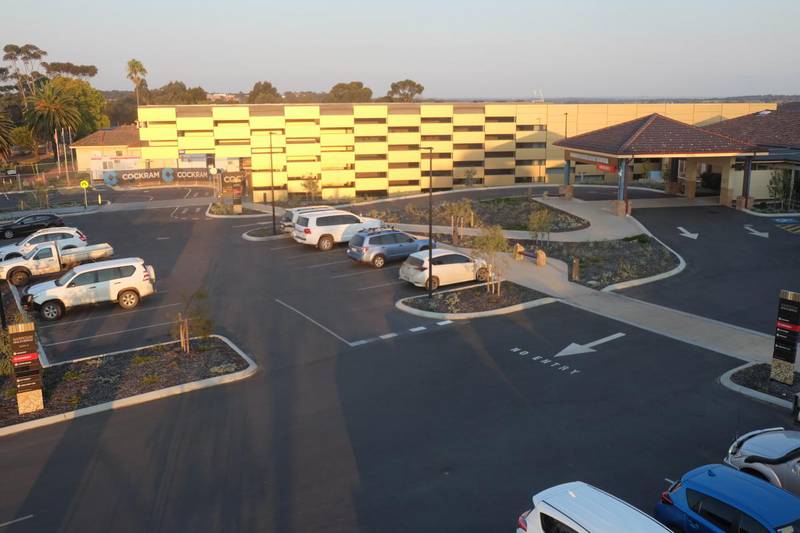 Narrogin Health Service's new entrance.
Narrogin Health Service's new entrance inspired by local hay bales is now open.
WA Country Health Service Southern Wheatbelt Primary Health Manager Dee Hollett said the large light-filled reception and lobby–waiting area created an inspiring new hospital entry statement for outpatients and visitors.
"Now that the entry is open it completes our move into the new outpatient area," Ms Hollett said.
"The waiting and reception areas are very light and inviting, and the new child health and consulting rooms enable us to deliver services from modern consulting spaces.
"The staff are very excited about working out of the new areas," she added.
Narrogin Health Service redevelopment lead architect Nathan Limpus said the "hay bale" structure was designed to capture the community's character and rural setting.
"The checkerboard facade is an abstraction of the region's stacked hay bales," Mr Limpus said.
"It is a finely detailed steel-and-glass box, sheathed in an aluminium checkerboard shading system.
"As the light reflects off the structure, the rich and vibrant colouring reflects the hues of the local landscape.
"The entry will help connect the residents of Narrogin by creating an active and vibrant space," he added.
Narrogin Health Service's $50 million redevelopment is part of the WA Country Health Service's $300 million capital works program to improve infrastructure in 37 towns across the Wheatbelt, Great Southern, Midwest and South West regions.
In the Wheatbelt, hospitals in Merredin, Northam and Narrogin are being redeveloped, and 23 small hospitals and health centres are being upgraded.