Rehabilitation using telehealth helps get local stroke patient walking again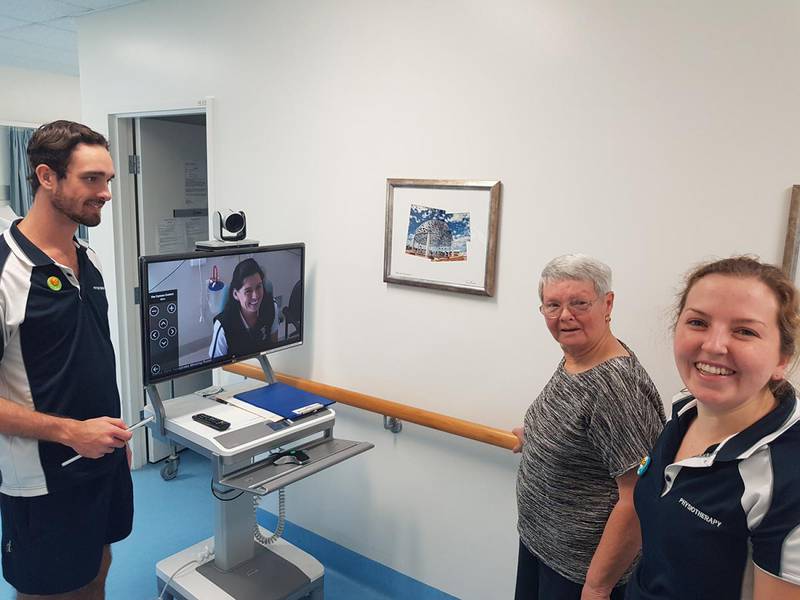 Osborne Park Hospital stroke rehabilitation unit senior physiotherapist Jessica Nolan uses telehealth to work with Geraldton Hospital physiotherapists, Elise Gollow and Joel Stephens, to guide stroke patient Janet Cozens through rehabilitation which helped her walk again.
Geraldton woman Janet Cozens had a stroke in June and thanks to telehealth technology, was able to undergo her rehabilitation locally rather than being transferred to Perth.
Using telehealth, Ms Cozens' local rehabilitation team worked with a stroke specialist physiotherapist from the stroke rehabilitation unit at Osborne Park Hospital (OPH).
OPH therapist Jessica Nolan could watch Ms Cozens' physiotherapy and support her Geraldton colleagues using a portable videoconferencing unit known as a telecart.
Ms Cozens, 76, was also able to be discharged from hospital sooner than normal while she continued rehabilitation by telehealth as an outpatient. With the ongoing therapy, she was walking again within just three weeks of leaving hospital.
Ms Cozens said she was grateful to telehealth technology for helping her to go home and giving her mobility back sooner.
"After the stroke, my husband and I were worried that I might not be fit for our trip to Tasmania but now I think I will be OK," Ms Cozens said.
Geraldton Hospital's telecart allows Perth therapists to dial in to therapy sessions whenever and wherever they occur and is part of the WA Country Health Service's (WACHS) landmark WA TeleStroke Project.
The TeleStroke–Rehab Project, which started in April, is a joint initiative between WACHS–Midwest and North Metropolitan Health Service–OPH.
WACHS TeleStroke Senior Project Officer Ruth Warr said feedback from patients around the initiative has been overwhelmingly positive.
"Patients tell us they want to be able to have their partner and children visit them in hospital and that their families wouldn't be able to travel to Perth and pay for accommodation if they were receiving rehab there," Ms Warr said.
"They say they enjoyed the experience of doing telehealth therapy sessions and would do it again if given the option between telehealth or going to Perth for rehab," she added.
September 3–9 marks National Stroke Week and WA Country Health Service is joining the Stroke Foundation to highlight the work taking place across country WA to reduce the impacts of stroke.
The theme for National Stroke Week 2018 is every step counts towards a healthy life, and people are urged to discover how easy it is to fit healthy habits into their daily routines to make a difference to their stroke risk.
Stroke Foundation Chief Executive Officer Sharon McGowan said stroke was a devastating disease attacking the brain – the human control centre.
She said it could strike in an instant changing the lives of those impacted and their loved ones forever.
"Stroke can impact anyone of any age, but the good news is more than 80 percent of strokes can be prevented by making sensible lifestyle choices and managing blood pressure," Ms McGowan said.
More information about telehealth is available at www.healthywa.wa.gov.au/telehealth
Fact File
An estimated 700 people in rural WA suffer from a new stroke every year, with regional Australians 19 per cent more likely to suffer a stroke than those living in metropolitan areas.
WACHS's landmark WA TeleStroke Project includes the Acute TeleStroke Project which uses videoconferencing and phone calls to speed up access for country patients to expert advice and care from stroke specialists in Perth.
Telehealth saved WA country patients from travelling 27.3 million kilometres in 2017 – that's about 12,500 return trips across the Nullarbor, or 35 trips to the moon and back.