Sowing the seeds of healthy eating in remote communities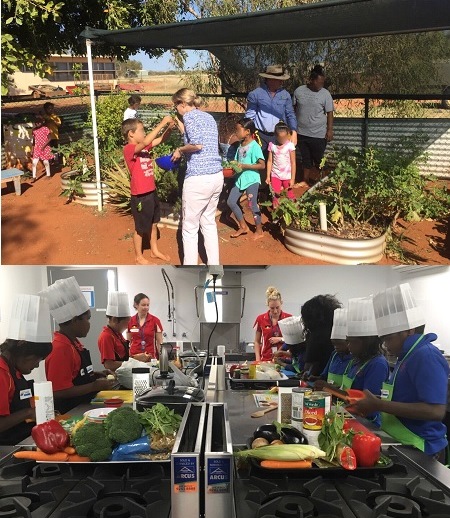 Children in remote Pilbara communities are learning about the importance of diet in preventing chronic disease.
A unique partnership between the WA Country Health Service and EON Foundation is improving the health of Pilbara children in five remote Aboriginal communities.
The Pilbara Healthy Eating and Lifestyles project is a finalist in this year's WA Health Excellence Awards, recognised for its multi-faceted nutrition program which is teaching school-aged children the importance of diet in preventing chronic disease.
Delivered in consultation with the community, the program has enabled the establishment and maintenance of community edible gardens which are used as the foundation to deliver nutrition education.
WACHS Pilbara's Population Health Nutrition Coordinator Hannah Castledine said the community gardens have not only planted the seed around healthy eating but have also established a secure supply of fresh food for local communities.
"This unique partnership is delivering evidence-based healthy eating programs, giving local communities knowledge, skills and confidence to make positive lifestyle choices and changes.
"We work closely with the local communities in South Hedland, Warralong, Yandeyarra, Nullagine and Marble Bar to deliver a hands-on practical gardening, nutrition education, cooking and hygiene program.
"School aged children are the primary target group for the program which educates around the importance of diet in the prevention of chronic disease."
All aspects of the program are developed in consultation with local communities and sessions begin with basic food group education, progressing through various topics to more advance lessons such as prevention of Type 2 Diabetes.
"What we have found is that children who have completed the program show a marked improvement in health status, knowledge, behaviour and skills towards healthy eating. They also have increased access to healthy, fresh foods," said Hannah.
"Starting early is important in order to give children the best chance to live healthy lives and having healthy food available is a critical first step."
Dedicated program staff are a consistent presence in the communities, building trust and helping them to thrive and grow.
The success of the program is not only reflected in reported data but is also consistently demonstrated at each community visit, where students continue to evolve their knowledge and understanding of nutrition as well as confidence and competence in the kitchen.
There are nine WACHS finalists in the 2018 Health Excellence Awards with winners announced on 8 November.